ADRENALINE HAYRIDE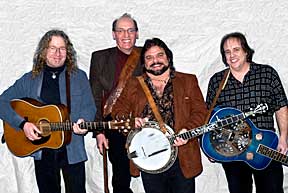 Featuring Chris Leske, Craig Vance, Dave Bevins & Arlin Greene
We are excited to welcome "Adrenaline Hayride", a new group that features some old friends of the Night Eagle Cafe.
Chris Leske (banjo, mandolin, and vocals) won first place honors in New York and New England banjo competitions as a young teen in the early 70's. In 1984, Chris won First Place in the National Banjo Championship, at the famous Walnut Valley Competition in Winfield, Kansas. Chris's abilities on lead guitar were featured on two European tours (1981 and 1982) with world-renowned banjoist Bill Keith and Nashville producer Jim Rooney. He was accepted for a banjo seat at Opryland USA the same year, but declined- favoring the opportunity to tour France, Switzerland, Belgium, Italy and Sicily with his then favorite bluegrass duo. Chris appeared in NYC's Carnegie Hall in 1995, and toured Ireland frequently with the McKrells.
Craig Vance (guitar, vocals) began his career as a solo act playing warm-up sets for such noteworthy performers as Doc and Merle Watson, the Country Gentleman, and Berline, Crary, and Hickman. He has also performed on stage with master guitarist Norman Blake. Additionally, he has toured with Bill Keith and Frank Wakefield in the US and Canada and plays on Bill Keith's recent Green Linnet release "Beating Around the Bush". He can also be heard on the Second Fret Records release "Synergy" by the Noble Jones Project. Craig has taken first place honors in numerous guitar competitions, including the contests annually held at the Sugar Grove Fiddler's Convention and the Chilhowie Bluegrass Festival in Virginia Craig also played Carnegie Hall and toured with the McKrells, and is a contributing columnist for Flatpicking Guitar Magazine.
Arlin Greene (base, vocals) began his musical career in his early teens playing bass with his father, the local bluegrass celebrity Smokey Greene. He was part of Smokey's Greene and the Boys and played on many of Smokey's recordings. He has toured the United States with a number of folk, blue grass, and rock and roll bands, and played in bands with such notables as banjo legend Bill Keith, and Dan Tykminski of Alison Krauss's Union Station. Arlin has also recorded and played with 1980s pop star, James "D Train" Williams. He also played bass for two years in a blues band in East Africa.
Dobro wizard Dave Bevins started at home with his family, The Chilson Hill Gang. He then joined Dan Tyminski in Green Mountain Bluegrass. Later, Dave appeared with the Lonesome River Band and The Country Gentlemen. This US dobro champ, has appeared & recorded with John Cowan, Pat Flynn, Scott Vestal, Victor Krauss, Andrea Zohn, & Andy Leftwich. Dave has a new CD recorded in Nashville , produced by Pat Flynn & engineered by Bert Battaglia, who also engineered Belas Fleck's 'Perpetual Motion' CD. Dave also played on the Grey Fox Masters stage with Cowan, Flynn and others in 2005