Amy Gallatin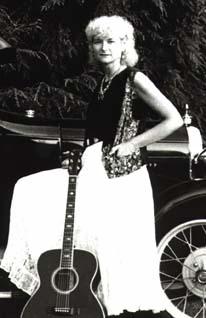 At your friendly neighborhood music store you can pick up sheet music, picks and strings, and a new instrument if you're in that kind of mood. Sometimes you can also hook up with your future. Amy Gallatin went to buy an amplifier one day, and walked out with connections that resulted in a band.

Amy Gallatin first studied journalism at the University of California, Davis, and worked as a radio news reporter. The ubiquitous format changes soured her view of that business and she decided to travel. Amy ended up as a horsewoman and a solo artist performing at guest ranches in the wilds of Idaha and Montana. A decade of work as a riding instructor, backcountry cook and campfire musician followed. The winter of 1992 found her in New England during an unexpected stop, where she happened upon a notice in a music store: "area musicians interested in picking sessions" were requested by a local dobro player.

Amy made that call, which led to recording sessions with some of her new musician friends. An extraordinary synergy of musical goals and talents among these performers formed the nucleus of Stillwaters, with Matt Nozzolio on vocals and dobro, and Kevin Lynch on vocals, mandolin, and guitar. Tara Rickart on upright bass soon came on board.

Amy and Stillwaters remained devoted to the type of music Amy most enjoys singing with her bell-like voice: a blend of country, folk, bluegrass and western swing. "Gallatin's song selection, her band, and her clear voice call to mind vintage Nanci Griffith," suggests The News-Times. The bluegrass background of Nozzolio's dobro, the percussive bass of Rickart, and the crisp mandolin and guitar work of Lynch rounded out a distinctive sound that led them to major festivals, including the Connecticut River Valley Bluegrass Festival, the Boston Bluegrass Union, and the Northeast Indoor Bluegrass Festival.

Her debut CD, Northern Girl, was produced by Lynch, and her second release, Sweet Gatherings, followed in just two years. Ed McKeon writes for Folk Notes, "There's a lilt in her voice that's just a bit old-fasioned, so when Amy Gallatin sings even the newest song, it sounds like an old favorite...Gallatin's second release is a bible of Americana--bluegrass, country ballads, Western swing, and even a bit of blues. And Gallatin handles it all with a skill, a charm and an understated passion that somehow heightens the emotional content of every song."

Bill Domler, broadcasting from WWUH in Hartford, points out another of Amy's charms: "To only listen to a recording of Amy is not enough. In person, she radiates a friendliness that sets her apart from most other performers and enables her to really connect with her audience."