Ann Rabson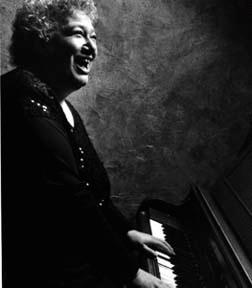 Ann Rabson was born in New York in 1945 and was raised in Ohio. As a child she listened to all sorts of music, but it was blues that reached her. "Blues speak to me directly. It wasn't a choice, I was drawn to it naturally, sort of like a sheepdog with sheep," she says laughing. By age 18 she was playing professionally around the Midwest. In 1971 Ann moved with her daughter to Fredericksburg, Virginia, where she performed full-time and gave music lessons on the side. In 1978 Ann took a day job as a computer analyst to help put her daughter through school while still performing at night. During this time, Ann and her guitar student, Gaye Adegbalola, decided to perform together and the seeds of Saffire--The Uppity Blues Women were sown.

In the early 1980s Ann began concentrating on her piano playing and within a short period of time had become an innovative and original player. Far from finding it difficult to learn a new instrument as an adult, Rabson says it was easier. "When you're 35 you have a better attitude. You take more risks."

The day her daughter completed college Ann risked it all and began playing music full-time again. Along with Adegbalola, Ann formed Saffire--The Uppity Blues Women. They pooled their money and recorded a demo tape, which they then forwarded to Alligator Records. Their 1990 self-titled debut become one of the label's bestselling releases. With the addition of Andra Faye McIntosh in 1992, the trio continued to win over audiences around the world with their wholly original and captivating albums and performances.

While still regularly touring with Saffire, Ann also plays many solo gigs and performs as a guest with many artists. She'll be featuring material from Music Makin' Mama on an upcoming extended solo tour during some downtime from Saffire. "I miss my husband and my daughter and my dogs and cats," says Rabson, "but I really love being on the road. I love travelling and meeting people." Her desire is to bring even more people to the blues. "If you aren't into the blues," she says, "it's because you haven't been exposed to them."