Bill Staines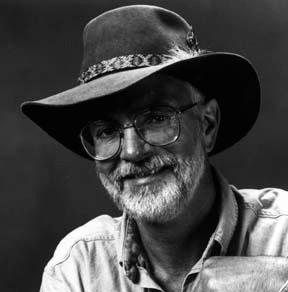 Take scores of performances on National Public Radio's "Prairie Home Companion" with Garrison Keillor; a bespectacled, flannel-shirted and unassuming demeanor; filled-to-capacity coffeehouses everywhere from Alaska to the American West to the folk-heavy northeast; a warm, expressive baritone; and more miles covered than a vintage Mack truck--if you're lucky, you'll end up with Bill Staines. Bill is one of those folksingers who has already earned the rare "legend in his own time" label. In writing for Sweet Potato, Tom Surowicz explains why:

"What's all the fuss about, you may ask? Well, to begin with there are Staines' songs. Simple, but affecting melodies joined with disarmingly direct homespun verse. A ballad about a rodeo rider that speaks volumes to people whose acquaintance with horse and bronc busting stops at Bonanza. A new ballad about a mythic old man that brings him closer to home than memories of your grandfather. A song about the mundane task of hauling in wood that's unpretentious and catchy enough to charm a penthouse dweller, or a solar home salesman. And 'Tulsa,' the best damn song about life on the rails since 'City of New Orleans.' These and other gems are Staines' biggest assets."

But it is also Staines' stage presence that thickens his press packet with reviewers' comments about warmth, humor, and story-telling in equal measure. Here is a troubador who has lived richly and with his eyes open, and whose tender affection and sympathy for humanity is gently framed in his music. Anecdotes collected from a continent's worth of traveling, and perfectly timed delivery of his truly funny observations, are given in a voice "like a warm, lamp-lit cabin on a winter evening." That voice holds some surprises, however.

He yodels. No kidding. Staines says that yodeling has its roots in climbing accidents in the Alps, but he has worked to keep this legitimate art form alive. Careful concentration and practice led to his winning a National Yodeling Championship and to yodeling workshops. He's in good company with Pete Seeger, Jack Elliott and Paul Siebel, with whom he has shared a yodeling stage. Arts writer Joel Gay describes Staines' vocal exploration: "Staines voice is so strong it is startling. It sounds as if it should come from a huge body, not Staines' slight frame. He can sing high and low, soft and loud, fast and slow. He yodels, hums, clucks, even imitates a trumpet with uncanny accuracy. And all of it without the least grimace or evidence of strain."

Staines' extensive list of memorable tunes and illuminating lyrics have kept his fan base loyal and expanding over these many years. Scott Alarik, one of the most important writers about the folk music circuit, describes a performance in Boston: "Staines opened the show with a lovely little set of his contagious, brilliantly accessible ballads. If all his sets sound a little like greatest-hits medleys, it is simply because nearly all the songs qualify. With his usual easy, at-home charm, Staines rolled through songs about trucks and mules, backroads and rodeos. Even for 'Gambler's Game,' from his brand new album, the audience joined right in on the timeless, lovely chorus." The poignant lyrics instill an abrupt acknowledgment in his listeners that here his something familiar, and worth hanging on to. Among Garrison Keillor's favorites is "Roseville Fair": The year flew by, not much time's left us./Your face is lined, and your hair is greyed./But I'll tell you again, how much I love you./In simple words, in the same old way./And here's a song for all the young lovers./And here's a tune that they can share./May they dance all night to the fiddle and the banjo./The way we did at the Roseville Fair." Words to remember, and to hear again.