Blackie and the Rodeo Kings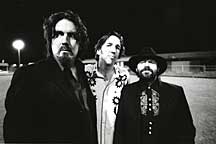 Blackie and the Rodeo Kings is not a side project for three outstanding musicians. Although it did start out spontaneously, with the trio forming for what they thought would be a one-off homage to Canadian folk music hero (and still Blackie's guiding spirit), Willie P. Bennett. Their musical chemistry and the reaction to that tribute, BARK's 1996 debut, High Or Hurtin', were so positive, they decided to run with it. Now each member is completely committed to the band, and the result is a band that is even greater than the sum of its parts. Given that the individual parts are pretty damned impressive, that's saying something.
The sheer pleasure they derive from playing in Blackie and the Rodeo Kings shines through onstage, and that's another key to their success. They're simply one of the very best Canadian live bands around, as anyone who has seen them play will testify. Just ask country great Merle Haggard, who invited them to open a national tour in 2004.
The presence of three different lead vocalists allows them to explore wide musical terrain, while they harmonize together in original and thrilling fashion. Factor in Tom's larger than life charisma and wise-cracking asides, Colin's fluent yet fiery guitar work, Stephen's spot-on vocal and guitar stylings, and the vibrantly-hued stage costumes, and you have a combination built to thrill.