The Bowery Boys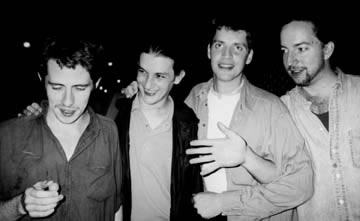 "The Bowery Boys" is a name synonomous with the wild and vibrant streets of New York City, but not a name one might think to associate with Irish traditional music. It is only a city like New York, however, that could bring together an assemblage of such outstanding musicians to produce a band like this. And only a name like this could capture the essence of their wind-blown and blistering approach to Irish music.

Comprising an international lineup of superb players from some of the finest Celtic bands performing today, The Bowery Boys can indeed be considered the newest Irish "supergroup." Their fiery, turn-on-a-dime arrangements emphasize an ensemble sound over solo playing. This remarkable sound was honed in all-night "seisiuns" at small East Village pub called Mona's, widely considered by both local and traveling musicians alike to be the premier Irish "seisiun" in New York.

The band's roster is extraordinary. Patrick Ourceau, on fiddle, was born in Paris but has resided in New York for 8 years. He is also a member of the Washington DC band Celtic Thunder, and plays frequently with Solas' accordian wizard John Williams, as well as with renowned Clare concertina player Gearoid O'hAllmhurain. Eamon O'Leary, on tenor banjo, guitar, and vocals, is a Dublin native. Eamon also performs with the group Atlantic Bridge, and has worked with giants in the Irish music world such as James Keane, uilleann piper Paddy Keenan, and flute sensation Emer Mayock. Greg Anderson, on bouzouki, cittern and bass, is leader of the well-known contemporary Celtic band Whirligig. He has also performed and recorded with artists Tommy Sands, John Whelan, Susan McKeown and the chanting house, and Steeleye span fiddler Peter Knight. Chris Layer, on flute and Scottish small pipes, is a former member of The Clayfoot Strutters. Chris has also worked with Trian's Liz Carroll and New York fiddle legend Andy McGann, among others.

Greg Anderson played with Susan McKeown at the Night Eagle in September, and the audience was swept away by his colossal musicianship. His return with the rest of the Bowery Boys is one of the most anticipated shows of the autumn.