The Burns Sisters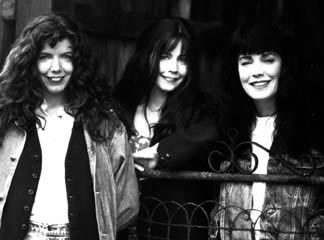 You can think about the Burns Sisters in terms of style, influences, harmonic choices...all the everyday ways of categorizing music, but the essence of the sisters is a matter of spirit. Soul, if you will. Otis Redding, Miles Davis, Joan Baez and Mercedes Sosa have little in common stylistically, yet each of them emits a palpable spirit that appears as natural and sturdy as the notes themselves.

Annie, Marie and Jeannie Burns make a music that is disarming not because it is pretty, which it is, but because they are traveling along an inner path they know by heart. Every song is tied to the center of things, to the everyday hunt for warmth on a cold planet, to family and history and blood. Spirit.

The sisters swear that there were no Irish records in their childhood, growing up with their family of 14 near Binghamton, NY, and yet there seems a Celtic component to their sound. "An audience member recently told us, 'I love all that Celtic stuff, it's inspiring,' and I thought, 'What Celtic stuff'?" Marie said recently, sitting with her sisters in a cafe after a gig at Cambridge's Club Passim.

"We're suckers for sad, emotional, desperate songs," says Jeannie with a delighted grin. "Not really," retorts Annie. "I consciously try not to write straight love songs, to not fall into the female-as-victim-of-love routine. I like a sad song that doesn't wallow, that has an empowering side. We're political and emotional: the idea is to feel the music, to have it come from the heart, not the head."

"We are, essentially, positive people," Marie concurs. "Yeah," says Jeannie. "After all, we grew up on 'the hills are alive with the sound of music!'"

Marie, Annie, and Jeannie Burns arrived numbers 7, 8, and 9 in a brood of 12 children. One of their first gigs was singing briefly in the Louie Malle film "Atlantic City." Several of the Burns brothers work in Hollywood, and they arranged the contacts. All five of the sisters sang together for most of the 1980s. After a Columbia contract ended one week before their second album was to be released, the sisters lost the will to go on as a family band. Yet the split wasn't due entirely to recording woes. "Most young people grow up, leave their homes, and establish their own identities," explains Annie. "But since we worked together for years and years, we never went through that process of separating."

After pursuing other projects, all five sisters produced a CD on their own, Songs of the Heart, before vocally restructuring the band as a trio. Their Rounder album Close to Home was released in 1995. By then, guitarist Rich DePaolo and violinist Eric Aceto had become an integral part of their sweet, spunky sound.

The Burns Sisters have been mainstays of the Ithaca, NY music scene for many years. They'd stuck pretty close to home for a spell, and so in early 1995, when they played the Boston area at the Somerville Theater and Club Passim, they sang before audiences who knew nothing about them. It is not a misuse of the word to say that Marie, Annie, and Jeannie seduced the audience. They were thrilled to discover artists whose vision was fully matured, yet whose elan was essentially youthful. The glorious harmonies persuaded the listeners to believe in their hope and feel their idealism. No mean trick for a seasoned and musically sophisticated crowd.

When folk fans heard that the Burns Sisters were going to Nashville to record with noted produced Garry Tallent (former Springsteen bassist), there were some raised eyebrows. Would the sisters' forthright charms be gussied up and overwhelmed? No need to worry. The new album is a graceful progression with only a subtle tinge of C & W.

Their two shows at the Night Eagle on Sunday will feature music from their new CD, Tradition--Holiday Songs Old & New. Here the Burns Sisters explore the musical territory, including tunes from cultures and religions all over the world. You will find traditional carols like "Silent Night" and "O come O Come Emmanuel," the haunting Persian "Come Come," the traditional Jewish song "Shaloo Shalom Y'rushalayim," the African-American spiritual "Children Go Where I Send Thee," and even a Tibetan prayer for peace. Two new compositions are Marie's opening "Songs We Love" and a stirring family sing-along on Annie's "This Christmas." Lush, expressive layers of voice spark attention in even those tired listeners worn down by decades of the same old holiday fare. The creative dynamics that color all of their projects work to make this seasonal music shine.

The complex task of keeping a band together and creating a new repertoire depends on flexible egos and firm-footed relationships. The three sisters live near each other in and around Ithaca. They take care of each other's kids. And they are able to be each other's editors, critics, and fans. "We are able to say what we think," says Annie. Jeannie adds, "We choose our material, but we all have veto powers. We talk it through. We are able to put away some ego and discuss things without going into ancient history. People always ask us, 'do you guys hang out together?' We do. We're a clan."