Cammile West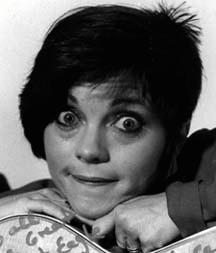 Camille West is a songwriter of the highest order--inventive, witty, warm and just plain fun. In the fertile ground of her imagination, life's experiences blossom into bizarre shapes. Shopping for a bathing suit is the basis of a protest movement in L.A.F.F. (Ladies Against Fanny Floss), a day on the family boat becomes a yuppie sea chantey in The Nervous Wreck of the Edna Fitzgerald, and a visit to the dentist inspires a rather unusual love song in Root Canal of the Heart.

Camille crafts lyrics and melodies with razor-sharp precision utilizing an eclectic mix of styles with equal skill. Mark Frost of The Chronicle calls her writing deliciously sophisticated, saying she "...skewers contemporary foibles like beef and tomato on a shish kabob..."

Camille West on stage is simply electric. Her performances are characterized by impeccable timing, boundless energy, and according to B.A. Nilsson of Metroland Magazine, "manic zest fired by two of the most arresting eyes in show business."

Camille's popularity grows with each performance as larger and larger audiences experience her unique brand of satire. The best medicine for the stress of modern life is laughter. Thankfully, Camille West can fill the prescription. She won first place at the Golden Link Folk Festival Performer Competition, was a Main Stage Feature at the Falcon Ridge Folk Festival Performer Showcase, and won the New Jersey Folk Festival New Folk Competition.