Candye Kane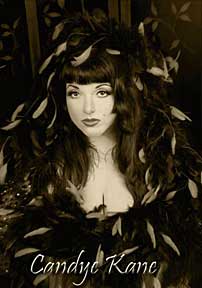 In the tradition of none-too-shy, brassy, larger-than-life flamboyant blues singers like Memphis Minnie, Bessie Smith, Big Mama Thornton and Etta James comes Candye Kane. The Blues was a place where women had colorful pasts - many were plus sized like herself. Most had grown up in oppressive, horrible circumstances and yet were still able to make music and celebrate their sexual lives. She sings of her life in a way audiences all over the world can relate to. Such candor, combined with excellent showmanship and a crackerjack band has helped Candye Kane rise in the world of the blues rather rapidly.
For many years, Candye Kane, while struggling as a single mother in the gang infested street of Los Angeles made her living ina n "alternative" entertainment industry, but in 1986, Kane caught the attention of CBS/Epic A & R Head, Larry Hanby. She was signed to a developmental deal and recorded her first demo with Grammy Winner Val Garay. Kane was marketed as a country singer but her chance for the golden ring was doomed. CBS dropped her when they found out about her checkered past. Managers and Agents encouraged her to lose weight, renounce her past and basically change everything about herself. Discouraged and broken hearted, Candye moved from Los Angeles to a sleepy beach community in San Diego. She married Paladins bassist Thomas Yearsley, gave birth to another son and became a Womens' Studies Major at the local Community College. She continued to write songs and accidentally discovered the brash blues stylings of Big Maybelle, Big Mama Thornton, Etta James and Bessie Smith Candye Kane found a home in the blues. In 1992, Kane met siblings Clifford and Susan Antone at the SXSW conference in Austin, Texas. The Antone's became close friends and fans and in 1994, Kanes' first cd Home Cookin' was released on the Antone's record label.
When Kanes' second son was 7 years old, she started the relentless touring pace that she continues today. Since her first Antones' release, she has recorded 6 cds for labels that include Discovery, Rounder/Bullseye, Sire records and her latest release Whole Lotta Love for Germany based RUF records. Whole Lotta Love is arguably her strongest release yet, featuring a duet with Blues Legend Charlie Musselwhite and guest appearances by the Reverend Billy C. Wirtz and Canned Heats' Larry Taylor. Whole Lotta Love was nominated for Best Blues CD of the Year at the 2003 San Diego Music Awards and she has won the Best Blues Band award 7 times. Other recent honors include unseating Jewel for Artist of the Year and winning the California Music Award for Best Swing/Cabaret Artist. Candye's live show is a culmination of all of her experiences and challenges. She honors the bold blues women of the past with both feet firmly planted in the present. She belts - growls - shouts - croons and moans from a lifetime of suffering and overcoming obstacles. She'll deliver a barrelhouse blues tune or a soulful ballad and then slay the crowd with her balls out rendition of "Whole Lotta Love" Led Zeppelin style. She often says she is a black drag queen trapped in a white womans' body and she dresses the part. Bedecked in bright colored feathers, sequins and rhinestones, Kanes' performance is Mississippi by way of Las Vegas with a quick stopover in San Francisco. Her live band features her now grown firstborn son, Evan Caleb on the drums and her blues compatriot Kyle Jester on guitar. Hear his excellent vocal and guitar contributions on the duet "Fit, Fat and Fine" on her latest cd. Kane plays all over the world and has appeared on countless television shows. She has headlined the Monterey and San Francisco Blues Festivals, The Notodden Blues Festival in Norway, The Waterfront Blues Festival in Portland, Oregon and many, many more. Her audience is a mixture of the disenfranchised; Bikers, blues fans, fat girls, feminists, men who love fat girls, rockabilly kids and everyday folk flock to see Candye and hear her message of love and empowerment. But don't let any of these facts be the reason why you book a show with Candye, or choose to write an article about her. Listen to her CD, Whole Lotta Love or any of the other six cds before it. Listen to the voice that The Washington Post has described as "A natural wonder like the Grand Canyon." Tap your toes to the infectious, sometimes humorous songs Candye writes with their messages for the lonely, hopeless, downtrodden and unloved. We think you'll agree that Candye Kane is just what the doctor ordered. She's a diva who is here to help us celebrate our sexuality, shatter stereotypes, live our dreams and have a damn good time on the dance floor.