Cathie Ryan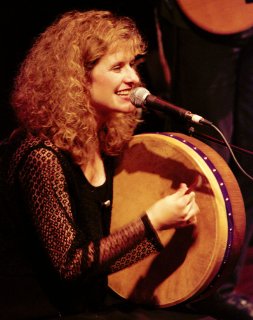 The New York Daily News recently stated that Cathie Ryan is "firmly in the upper echelons of Irish music singers." For the fans who have been following Cathie since her early days with Cherish the Ladies, this is proof of what they have known for years: that she is a major artistic talent, equally at home amid the deepest strains of the Irish tradition or the cutting edge of the contemporary songwriter movement.

The daughter of Irish immigrants, Cathie was born in Detroit, Michigan. Her father was a tenor and very much in demand at the Gaelic League, where her family spent much of their time. As a child she often visited her grandparents in Ireland. They had a profound effect on her singing and songwriting. Her paternal grandmother, Catherine Ryan, was a fine fiddler and singer and her maternal grandfather, Patrick Rice, was a gifted storyteller who mesmerized Cathie with tales of Irish myth and history.

For as long as Ryan can remember she sang. From the age of seven, She was a popular fixture at Gaelic league sesiuns. She learned the rudiments of sean nos competing in feis' in Detroit. After moving to New York, she began to study with legendary sean nos singer Joe Heaney. "I appreciated every minute I spent with Joe, singing and talking about songs." Ryan says. "He brought me further into the art of the sean nos; but mostly he gave me great encouragment to sing. After spending the time I did with him I believed I could and should sing. It's strange because I then began to incorporate all the other musical influences within me into my own singing style." Those other musical influences came from growing up in an American city ripe with music to absorb. Her bestfriend's parents were from Appalachia and from them she learned about mountain music. And all around her were the burgeoning sounds of Motown whose influence can be heard in the groove of many of her quicker numbers, and in her complex, undulating bodhran playing.

In 1987, Cathie was invited to join the Irish traditional women's ensemble Cherish the Ladies. As lead vocalist she moved easily from sean nos to English language Irish songs to her own compelling compositions. Her moving paean to Irish immigrants, "The Back Door," was the title-song for Cherish's second album and has already become an Irish folk standard. Her seven year contribution to the group helped place them in the vanguard of Irish music.

Since leaving the band in 1995 to pursue a solo career, Cathie has not looked back, "It was a tough thing to strike out on my own, but it has been the best thing for me as a singer, a writer, and a person. I am free now to express my own music. It's been a very creative and fulfilling time."

In 1997 Shanachie Records released Ryan's self-titled solo CD to critical acclaim. The Boston Herald hailed her "a major talent" and the Scotsmen proclaimed the CD "a brilliant debut." Her second CD, The Music of What Happens, has met with even greater success. It was called "a showcase of impeccable musicianship" by the Irish Voice and has been selected Best Celtic CD for 1998 by numerous critics and folk radio programs nationwide. In 2000 Cathie was named Irish Female Vocalist of the Decade by the Irish American News in Chicago and one of the Top 100 Irish Americans by Irish America magazine.

When Cathie is not singing she is one of the hosts of pledge programming on New York, New Jersey and Connecticut's PBS, WNET, Channel 13 - America's most watched public television station. She also co-leads tours of Ireland focusing on Celtic Mythology with Dr Michael Paull and noted Jungian author , Sylvia Perera.