Chris Trapper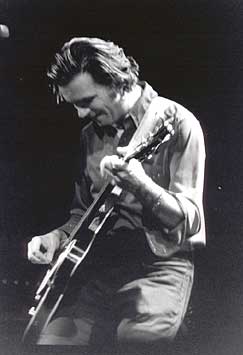 Chris Trapper's songs have been winning awards as well as the hearts of devoted listeners ever since his arrival in Boston from Buffalo in 1991. He is most widely known as the front man for the nationally acclaimed pop/rock band The Push Stars, whose "honest, heartfelt songs with timeless melodies" were described as "the kind of music that songwriters love" by Rob Thomas of Matchbox Twenty.
With The Push Stars, Chris has written material for four studio albums and three self-produced discs. Several of his songs have been picked up for major motion picture soundtracks including There's Something About Mary and Say it isn't So and for televisionshows such as ER and Malcolm in the Middle. His 2002 solo project "Songs from the Drive-In" showcased "his formidable storytelling talents," according to the Boston Phoenix.
In addition to numerous Boston Music Awards, Chris Trapper received two Gold Records, a Platimun record, and the prestigious SOCAN Award twice for his songwriting work with Newfoundland's Great Big Sea. Antigone Rising covered his song "Waiting, Watching, Wishing" on their latest album release. His second solo release, "Gone Again," serves up 11 new songs with a Dixieland flavor provided by Boston's renowned Wolverine Jazz Band.