Cormac McCarthy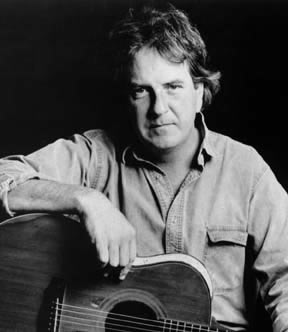 While Cormac is not, as often queried, the alter ego of the New York Times Bestselling author ("All the Pretty Horses," etc.), his background in literature, his rural roots, and his knack for penning a great line would make some comparisons easy to draw, and since we've never heard tell of whether or not the Kentucky born novelist can sing, we'll have to leave the contest open.

Green Linnet recording artist Cormac McCarthy made his singing debut on WKRC Radio in Cincinnati as a three-year-old belting out "Davy Crockett" on his father's radio show. He returned to public performance some twenty years later, singing his own compositions. Born in Ohio, but rooted in rural New England since the age of ten, Cormac grew up in towns where the economies teetered on marginal sustenance from logging, and paper and woolen mills. His elementary school had the sixth, seventh, and eigth grades in the same room. Though the area was small, his musical influences were not; his father's love for jazz and classical music introduced Cormac to everything from Errol Garner to Beethoven. It wasn't until his sister made a visit home from college, bringing an armful of recordings of Dylan, Baez, and Eric Anderson, that things clicked musically for McCarthy: he traded his clarinet for a Western Auto guitar, purchasing the Black Diamond strings across the street at the barber shop.

In his own college years, Cormac studied literature and music, and took a liking to the works of James Joyce and Mississippian John Hurt. He spent most of his time reading, playing guitar, and working in the local mills to pay for school. Folk-music giant Bill Morrissey was his college roommate, helping encourage Cormac to make his music more public. A stint of shared local gigs and storytelling marathons ensued.Following college was a trip out west, where Cormac worked at an array of jobs including construction worker, truck driver, street singer, and migrant worker. These rough edges of life are seen in the lyrical magic of his extraordinary music.

Cormac was nominated for both Outstanding Folk/Acoustic Act and Outstanding Folk/Acoustic Album by the Boston Music Awards in 1988. His album Troubled Sleep for Green Linnet Records helped to kick off the label's prestigious singer/songwriter Redbird Series label, a series devoted to the most creative of this generation's acoustic musicians and songwriters. Troubled Sleep won high praise and overseas attention in the U.K. His more recent album "Picture Gallery Blues" won a four-star rating from Northeast Perfomer Magazine, where it is described as "brilliant." Carol Connare writes in Spotlight's "For the Record": "His discography is not an adequate resume--this is only the third recording from McCarthy who has written so many songs he must have to stash them in a closet or under his bed to keep from tripping over them. The high-profile musicians who helped on this recording are a better indication of the respect his talent commands. The stunning Johnny Cunningham plays fiddle, Paul Geremiah offers his brookding 12-string slide guitar, Bill Conway (of Morphine) is on drums, and David Mansfield (of the Bruce Hornsby Band) rounds out the impeccable recording with violin, electric and pedal steel guitars."

Cormac was honored to be invited to perform in Boston's WUMB Folk Radio 10th Anniversary Celebration. He has appeared repeatedly at the Newport Folk Festival and on NPR's "Mountain Stage" live radio show. A fan favorite and regular at the Hartland Folk Festival, his stage presence also led to his invitation to headline the April 1 Night of Humor and Songwriters in Boston's Somerville Theatre. He's also performed at Passim in Boston, the Ben & Jerry's "One World, One Heart" festival in Sugarbush, VT, and the New Folk Concert Series in Minneapolis.

Cormac writes and sings of a heartfelt, sometimes funny, sometimes desperate, sometimes glorious world of common people, struggles, hope, relationships, madness, and love. He sings the poetry of real life with a silky baritone and just enough grit. "I try to get reality and fantasy to meet in some place," he explains. "A lot of things that happen are so strange that no one would believe me." Laura Pope adds," "McCarthy brings us stories and memories, love songs and humor, and a huge plate of well woven music."