Cosy Sheridan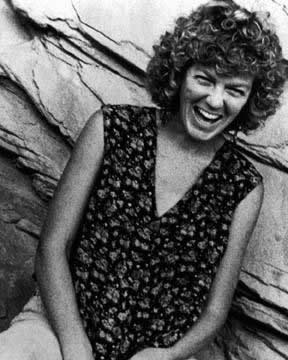 People react to Cosy Sheridan and her music much as they do when rediscovering a favorite possession they hadn't even realized was missing. Filled with delight, curiosity, and a sense of return, Sheridan is a musical reminder. Her music consistently evelops, prods, and surprises, reconnecting listeners with images and places which have slipped away. Rich in metaphor, Cosy's dreamy vocals and infectious melodies are impossible to shake. Her astounding sense of lyricism, coupled with intricate and masterful guitar work, have carved out an indelible niche for Sheridan in the Who's Who of contemporary folk music. There is just nobody out there like her, and other performers would have difficulty filling her shoes.

Since The Boston Globe dubbed her "one of the best new singer songwriters in the United States," Cosy has blossomed into one of the most captivating performers on the acoustic music circuit. Her skills as a songsmith received particular acclaim in 1995 , when she appeared with Sarah McLachlan, Shawn Colvin, Nanci Griffith, Dougie McLean, Kristen Hall, and John Gorka on the Putumayo Record compilation CD, Shelter. The disc, a benefit project to aid the National Coalition for the Homeless, featured a Carnegie Hall performance in which Cosy endeared herself to fans and critics alike.

But it is the enormous respect she's earned from her peers that reveals most about Cosy. Having walked off with awards at the Kerrville Folk Festival and the Telluride Bluegrass Festival, Cosy has become known as the songwriter's songwriter. Says recording artist Catie Curtis, "Somewhere in the uncharted, overlapping territory of Mary-Chapin Carpenter, Dr. Ruth, and Deepak Chopra is you at a Cosy Sheridan concert--laughing and crying, laughing and crying. Go there!"

Recorded live at Club Passim in Cambridge, Massachusetts and at concerts in Salt Lake City and Logan, Utah, Cosy's latest album, One Sure Thing, finds her at her best--in front of an audience. With an irrepressible wit and a resounding heart, Cosy navigates the complex topography of our time. Says Seattle's Victory Review: "Strong songs, sophisticated tunings and a charming stage presence...Cosy kept the audience entranced."

Cosy and her brazenly smart sound continue to leave listeners eagerly anticipating her next story. Chances are good that whatever is on her mind is on hers as well. She offers you music filled to the brim with stuff that's good for you. Give a listen and be reminded of, at the very least, One Sure Thing.