The Dady Brothers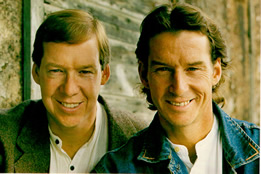 The Dady Brothers, a Rochester-based folk duo are favorites in this area. Their show promises to include the Celtic and folk-roots music on multiple instruments that fans have come to expect from these recording artists.

The Dady Brothers have been a major force at the forefront of the western New York music scene for over twenty years. From their home base in Rochester, New York, they have taken their musical talents to many diverse venues in the U.S., Canada, and Ireland.

John and Joe take folk roots music and bring it to their audience in an authentic and enjoyable way. The brothers are at home with many different styles of music including Bluegrass, Folk, Irish, and even Country Blues. The impressive line-up of their instrumental versatility reads like a dictionary of traditional folk instruments, including fiddle, mandolin, guitar, penny whistle, bodhran, harmonica, banjo, and uilleann pipes. Music enthusiasts and professional musicians alike are continuously singing the praises of the boys and their consistent level of professionalism.

The Dady's have recorded music in their own studio as well as performed on many other artists' recordings. Their 1979 "Mind to Move" brought them national recognition. They also produced their own CD, "Soul Lilt," which has been used as a soundtrack in a documentary about Irish history in Savannah, Georgia. One of their instrumentals was used in the Rochester Upper Falls laser light show. In the spring of '94 Joe and John wrote and recorded the musical soundtrack for "The End of the Line," a documentary about the history of the Rochester subway, produced by Animatus Studios. The film's premiere opened to a packed house at the Little Theatre in Rochester. It has recently been sold into national distribution.

The Dady Brothers consistently play with an endless supply of energy and adapt well to many musical settings or venues. One set from the Dady's and the listener is immediately transformed into a fan and friend. Joe and John see music as the universally understood language of friendship and peace, and enthusiastically invite their audience to join in the celebration. "The Dady Brothers have it all," says songwriter and performer Tommy Makem, "...taste, talent and dedication. Taste to select good material; talent to perform the material excellently, to the delight of their audiences; and the dedication to keep their material and performances to the highest standards."