Dave Crossland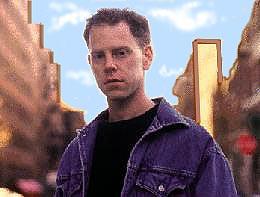 Powerful songwriting, a passion for justice, and a voice that can sing virtually anything make Dave Crossland one of the most talented and versatile singer-songwriters on the circuit today. Whether solo and acoustic, or fronting his full-tilt heartland band, Dave strikes the socially relevant and the starkly personal while his style moves deftly between driving passion and whimsy. The Boston Globe calls Dave's songs "fiery and alluring," testing "the American dream against the American reality" with "a naturalistic sweep, a panoramic Americanism, that set them apart."

Lauding Dave as "the best singer-songwriter I've heard in years," legendary songwriter John Stewart recently had Dave record one of his own songs on Stewart's new project, due out in early 1999. Dave's own recordings have been rated among the top ten acoustic albums by National Public Radio's "The Best of River City Folk," and by "Music Americana" in Washington, D.C. His songs have been published in "Sing Out!" magazine, and featured on "The Best of Unsigned Acoustic Music 1998," by A-Ç-Z Music of New York City.

Dave has opened for artists such as Don McLean, Laura Nyro, and Dar Williams, and has shared the stage with Richie Havens, Nanci Griffith, John Stewart, and others of international acclaim. His songs have been covered by numerous acoustic artists, and his performances included on several compilation albums, including "The Acoustic Underground" of Boston, "Fast Folk" of New York City, and the "Martha's Vineyard Songwriters Retreat."

While Dave continues to perform solo nationwide, he also plays out with his band in the roots-rock format featured on his new CD, entitled "Molly's Street." The newly completed album features guest appearances by Johnny Cunningham on fiddle, Tim O'Brien on bouzouki, and a generous sampling of ale-swilling rockers from his hometown of Akron, Ohio.