Dave Hamburger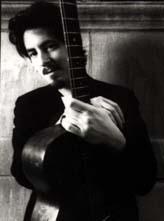 David Hamburger has been called the "Clint Eastwood of the dobro,"--and some have even suggested that the dobro was in his hands at birth--but he is first to acknowledge the influence of musical giants. He will be playing with Dave Van Ronk on Sunday at the Night Eagle (two shows, 3:30 and 7:30), a fellow master guitarist who awakened his interest in fingerstyle guitar. Hearing Fats Kaplan play with Nanci Griffith sent David on his dobro and pedal steel path, where he has found another musical home.

Instrumentals aren't his only claim to fame, however. Jan Brick at WERS-FM, Boston, writes, "Who's brash and oh-so-smooth at the same time? The King of the Brooklyn Delta, David Hamburger, that's who! From the first urgent line of this exceptional debut album ("open up, open up, let me inside"), he demands some well-deserved attention. His songs are poignant, funny and sexy...Hamburger is an amazing musician...but the proof is in the listening--his unpolished but endearing vocals, the catchiness of his tunes and the sense of fun that runs through this album from the title cut to the last."

David explains why he started writing songs: "I started writing songs because when I started singing I couldn't do those Muddy Waters lyrics with a straight face. My roots are basically middle-class suburban, no doubt about it--never been within fifty feet of a real live mule, never been a fieldhand, never killed a bottle of whiskey single-handed. I loved the blues but I needed lyrics in my own vernacular, so I wrote some. I've actually started doing a few of those old tunes lately, but it's a matter of really picking and choosing the ones that feel right." Apparently alot feels right.

David Hamburger grew up in Lexington, Massachusetts, dodging violin lessons, reading Doonesbury and putting scratches on his sister's copy of Abbey Road. He discovered Charlie Christian and Mose Allison while studying music at Wesleyan University and moved to New York City in 1986 in search of jazz guitar gigs. Instead, he wound up playing in Freedy Johnston's band for over a year, appearing on Johnston's debut album, The Trouble Tree, in 1990. David began playing the dobro and the pedal steel around this time and was soon appearing live and on sessions with several songwriters on the New York City folk scene. He has appeared as a songwriter and band member in the Fast Folk revue at the Bottom Line and recorded three of his own songs on Fast Folk releases.

After touring Europe with Jack Hardy and the eastern United States with Jeff Tareila, he recorded King of the Brooklyn Delta and began to concentrate on performing his own material. "King of the Brooklyn Delta shows a consummate acoustic/electric guitarist at work. David's personality and sense of humor are reflected in original songs that showcase his musical depth and understanding of his folk and blues roots," says Duke Robillard.

David now divides his time between touring solo, doing session work, and writing for several publications, including Guitar Player and Acoustic Guitar. Currently at work on a dobro method book, he is the author of instructional books on Beginning Blues Guitar (1994) and Electric Slide Guitar (1996) and has been on the faculty of the National Guitar Summer Workshop since 1988.