Ellis Paul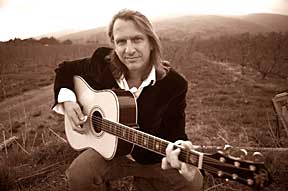 Ellis Paul is a critically acclaimed singer, songwriter and poet. He is the recipient of thirteen Boston Music Awards, second only to multi-platinum act Aerosmith. Since launching from Boston, Ellis Paul has built a vast catalog of music which weds striking poetic imagery and philosophical introspection with hook-laden melodies.
USA Today's national feature on Ellis was titled, "Best Bet for Stardom" which has come true after 15 years of non-stop touring. He has shared the stage with such notable artists as Bill Morrisey, Shawn Colvin, John Gorka, and Kristian Bush from multi-platinum selling country act Sugarland.
Ellis' songs have appeared in the soundtracks for several movies, including "Me Myself & Irene" with Jim Carey and "Shallow Hal" with Jack Black. Movie director Peter Farrelly, of the Farrelly Brothers, has praised Ellis as "a national treasure."
Ellis averages 150 shows a year and travels across America and Europe, playing every place from church basements to Carnegie Hall. Hailed as an international troubadour, Ellis recently celebrated the release of his first family music CD, The Dragonfly Races, on January 8th, 2008. A singer songwriter is only as good as the times he reflects. In times like these, when so many nuts are running the show, it's comforting to know that Ellis Paul is actually holding our sanity on his own stage! Wise, tender, brilliant and biting, Ellis is one of our best human compasses, marking in melodies and poems where we've been and where we might go if we so choose to. Personally Ellis, I'm goin' where you're goin'!
--Nora Guthrie (Woody Guthrie's daughter)