Erica Wheeler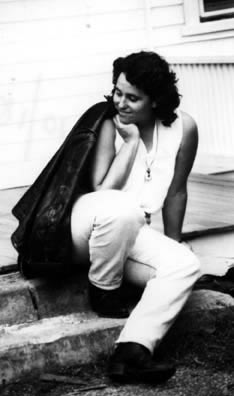 "The world is still a beautiful mystery to her. She finds poetry in small towns, ramshackle hotels and cheesy diners...She takes experiences and weaves them into magical songs that tap some universal need, thoughts of how things ought to be." -- Cleveland Plain Deal

Wheeler began writing songs in 12th grade--"you know, teenage angst stuff"--in her hometown of Chevy Chase, Maryland. At that point she thought she'd be a wildlife biologist or a "potter--weaver--jewelry-maker kind of person." Her college years brought her to the PIoneer Valley of Massachusetts where she now resides. She attended Hampshire College to earn a degree in Environmental Studies, but was swayed by a course entitled "American Landscapes" which traced the literature of the wilderness throughout the history of the United States. This turning point saw Erica's studies expanding beyond scientific logic toward literate explorations of the environment's impact on the human spirit.

"Wheeler's songs are a combination of unrepentant sentimentality, a strong sense of place and an intimate almost cinematographic portrayal of everyday human events." Dirty Linen

Now based in Northampton, Massachusetts, a virtual hotbed of today's finest singer-songwriters, Erica started as an opening act for many of the touring artists who performed at the famed Iron Horse Music Hall. During the formative years she also worked on a horse breeding farm, painted houses, waited tables, telemarketed, and served as a personal health care assistant. In 1989, after receiving the encouragement of a growing fan base and the club's management, Erica released a 10-song solo cassette entitled "Strong Heart." The cassette garnered positive reviews and put her on the road as another modern-day troubadour. In 1992 the follow-up CD, "From That Far," was produced by Darleen Wilson, and her label debut, "Harvest," soon followed on Signature Sounds. "The Harvest," produced by Laurie Lewis, instantly propelled Erica into the forefront of today's contemporary singer-songwriters.

"Erica Wheeler delivers the goods on The Harvest and she deserves to be compared to her talented folk contemporaries even as she is being declared an original voice for her generation." -- New Britain Herald

At an early age she was exposed to bluegrass and traditional music due to family escapades in the surrounding regions of West Virginia, Virginia and rural Maryland. Today she counts Bill Morrissey, John Gorka, Nanci Griffith and Greg Brown as some of those who have influenced her most. Additional influences come from writers Annie Dillard, Barbara Kingsolver and Terry Tempest Williams.

"Wheeler's voice has a burnished quality like the deep changing hues of winter sunsets, pinks and oranges burning down the horizon...one of her greatest strengths is to temper love, light and goodness with darkness and wistfulness."--New England Folk Almanac

Erica Wheelers sees her "job" as a way to take people on a journey through internal and external landscapes. The rewards for Erica are ample--it is her privilege to look out into an audience and realize she's gathered in a room full of people she'd like to get to know.