Fairport Convention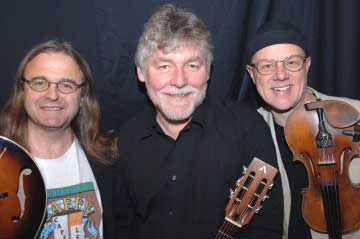 Enjoy an intimate evening with Fairport Convention's acoustic take on folk-rock music. The members of this exciting band are Simon Nicol (guitars, vocal), Chris Leslie (fiddle, mandolin, bouzouki, vocal), and Ric Sanders (violin). Fairport Convention is, of course, renowned as the group that invented the British folk-rock genre.
From its formation in 1967, Fairport has had its ups and downs, mostly 'ups' luckily, and recently won the coveted BBC Radio 2 Lifetime Achievement Award. Fairport's greatest strength has always been playing live. This tour of the band's acoustic line-up lets audiences enjoy the performance up close. The show is a mellow mix of old and new. As well as a wide selection of favourite Fairport compositions and tried and trusted traditional songs and tunes, the band takes fleet-footed diversions into jazz standards and swing classics. During nearly four decades, Fairport Convention has built an enviable reputation for adaptability and innovation and the current tour proves that Fairport is still able to stretch itself and the range of music it plays....
We are thrilled to welcome Fairport Convention back to the cafe stage...