The Hard Road Céilidh Band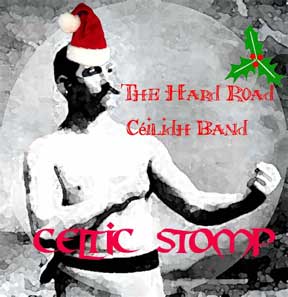 The Hard Road Céilidh Band Irish House Party Christmas Songs and Stories, Celtic Stomp for the whole Family.
The line up of The Hard Road Céilidh Band reads like a merging of the who's who of the New York music scene and Celtic music at large. On lead vocal, guitar and bodhran is renowned Celtic and bluegrass songwriter Kevin McKrell. Groups around the world have performed and recorded Kevin's songs. From Ireland, The Fureys, Seamus Kennedy, from Scotland North Sea Gas, from Australia Pat McKiernan. From the U.S Hair of the Dog and the Kingston Trio. In a recent review of the Trio this was said of Kevin's song 'All of the Hard Days are Gone'.
"…the Trio performed a new song titled ALL THE HARD DAYS ARE GONE. Other than ROLLING RIVER, this is the best new song to come to the Trio in thirty years….
Kevin has performed at Celtic, Folk and Bluegrass festivals and venus through the U.S. and Ireland.
Joining Kevin in The Hard Road is. On Vocals Guitar Bodhran, Katie McKrell: From The Poor Kates and The Black Puddin' Band. On Vocals and Fiddle, Victor Gagnon: from Slide Show Baby, 7 Nations, And The Jimmy Kelly Band. On Vocals Drums, Steve Candlen Metroland drummer and singer songwriter of the year 2007: From The Young Rascals and Franklin MiCare. On Guitar, Jimmy Kelly: from The Jimmy Kelly Band, Andy Cooney. On Bass and Vocals, Rick Bedrosian from Hair of the Dog, The Black Puddin' Band. or On Bass and Vocals, David Maswick: Blotto.The Stony Creek Band. On Electric Guitar, Dave Malachowski: Shania Twain, Savoy Brown, Commander Cody and the Lost Planet Airmen Although new on the sceneThe Hard Road as already performed at The Town Crier in Pawling NY, The Millbrook Bandshell Millbrook NY, The Parting Glass Saratoga NY, Binghamton NY Concert Series, The Capital District Scottish Games Altamont NY. Irish 2000 Altamont NY, With smooth tight genetic harmonies of Kevin and Katie McKrell making each song stirring and memorable, the powerful fiddle playing of Victor Gagnon dancing out like smoke and water. The infectious rhythm section of Steve Candlen Rick Bedrosian and Brian Melick making standing still a virtual impossibility. The Hard Road Céilidh Band is an overpowering experience.
Instrumentation
Kevin McKrell guitar vocal
Victor Gagnon fiddle vocal
Katie McKrell Vocal Bodhran
Steve Candlen Drums
Steve Butler Bodhran
Rick Bedrosian Bass
Dave Maswick Bass
Dave Malachowski Electric Guitar
Brian Melick percussion