Harmonius Wail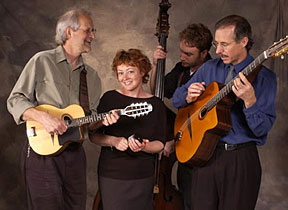 Harmonious Wail draws from the rich influence of the European gypsy musicians, most notably Django Reinhardt and Stephane Grappelli who from the 1930s on created and developed what came to be known as Gypsy Swing. What sets the Wail apart from other wonderful talent in this growing genre is the vocal excellence of Maggie Delaney-Potthoff. The intoxicating arrangements and the shear joy the Wail brings to every performance is downright addictive.
"In the United States the most avid and talented champions of this style have to be Madison, Wisconsin's Harmonious Wail, whose latest CD appropriately titled Gypsy Swing, provides a soulful overview of the genre..." - Dirty Linen (April/May 2004)
Specializing in the style of Django Reinhardt, The Wail is made of mandolin, guitar, bass, and killer female vocals with snare percussion. The Wail consistently receives an excellent response from audience members, and reengagements from presenters. The band has toured throughout the United States and Europe over the past 17 years ...