Jamie Anderson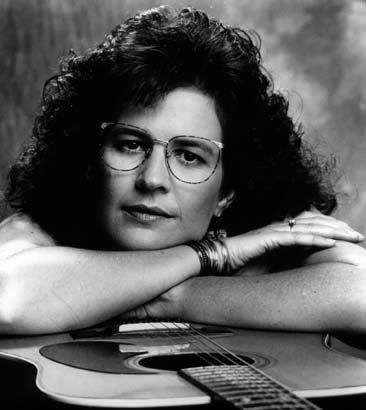 She writes funny, she writes serious, and she can play the guitar.

"Her voice is strong and her songs can be powerfully political and very funny," says New Directions for Women. For two years in a row she was awarded a TAMMIE (Tucson Area Music Award) for Best Solo Acoustic/Folk Performer. Jamie was a finalist in the Troubador Contest at the Telluride Bluegrass Festival in 1994. For five consecutive years, she was voted a favorite by the readers of Hot Wire, a national journal of women's music and culture; she's been honored in several categories--including All-Time Favorite Performer, Favorite Songwriter, Favorite Emcee, and the one she's most proud of, Best Baton Twirler. Her songs receive radio airplay internationally. Recently NPR's "Car Talk" featured her song "Midnight Alice."

Jamie is a versatile performer who has been touring nationally since 1987. Known for her engaging stage presence, she has played hundreds of shows--everything from coffeehouses to concert halls, in over 80 cities in 40 U.S. states, in Canada, Mexico, and the West Indies. Jamie has performed at folk festivals and at most women's music festivals.

Dirty LInen (an international folk music magazine) says Jamie is "...an accomplished and witty songwriter." She looks at subjects usually untouched by mainstream songwriting. Her songs include the poignant ballad "One Out of Three" (about breast cancer), and the hilarious "All of Me," a bluegrass romp through her feelings about body image. "When They Know Who We Are" is a rousing song of pride, and "When Cats Take Over the World" is a song that Jamie swears was cowritten with her cat. Writers from the Tucson Weekly and KXCI in Tucson have said, "Anderson's sense of humor and lack of pretense ease you into what is a potential political and social war zone without inflicting any serious wounds," and "She sings heartfelt topical songs about undersung topics..but her humor is her triumph."

Jamie has four award winning recordings on her Tsunami Records. The newly released Never Assume features the upbeat title tune, the world beat acapella "When They Know Who We Are," "Menstrual Tango" and 8 more great tunes. Produced by Lisa Koch (Dos Fallopia), this release features percussionist Linda Severt (Laura Love Band), bassist Garey Shelton (Jesse Collin Young), accordian player Nova Devonie (Ranch Romance), cellist Jami Seiber (Ferron, Rumors of the Big Wave), and many others.

Bad Hair Day, Jamie's fourth recording, is a collection of her funniest songs. A Family of Friends, an exciting sampler of women's music released in 1993, was coproduced by Jamie. She co-wrote the title song and contributed one song of her own. The beautiful title cut was recorded with several well known women's music performers (including Deidre McCalla, Margie Adamn, and Cris Williamson). Center of Balance is Jamie's distinctive second recording. From the hot bluegrass of "All of Me" to the rousing folk anthem "No Closet," this CD/tape showcases Jamie's impressive songwriting talent and heartfeld vocals. Jamie's first album, Closer to Home, features the sultry "Dark Chocolate" and the tongue-in-cheek "Wedding Song."

Jamie's expressive voice and personable stage manner is an asset to any stage. She loves to perform--just don't ask her to park any cars.