Jeremy Kittel Band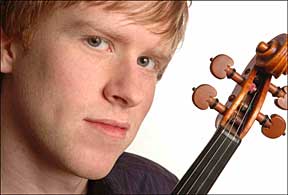 Fresh from his debut performance at Carnegie Hall, this "amazing fiddler" (Strings Magazine) will perform his own captivating blend of Celtic, Jazz, and Bluegrass. He'll be joined at the Night Eagle by a brand-new band, featuring virtuoso guitarist Kyle Sanna, polish-born percussionist Bodek Janke, and bassist Andrew Kratzat, winner of the International Society of Bassists' Jazz Competition. Check out the bios and quotes below for more info!
Fiddle:
"Outstanding Michigan Celtic-jazz-bluegrass fiddle wiz Jeremy Kittel" (-The Boston Globe) is on the move. A true multi-stylist, the twenty-two-year-old fiddler has earned an impressive list of accolades including 2000 U.S. National Scottish Fiddle Championship and a 2006 Detroit Music Award for Best Jazz Recording. At the University Of Michigan School Of Music, Kittel received the Stanley Medal, the highest honor bestowed upon a graduating senior. Kittel has recorded three CDs of traditional and original material, and his second, Roaming, was recently named the 4th best Celtic CD of 2003. As a leader, Kittel has performed at such venues as the Kennedy Center, Chicago Celtic Fest, Milwaukee Irish Fest, Detroit Jazz Festival, and "A Prairie Home Companion." Also highly sought-after as a sideman, Kittel has been touring with fiddle legends Darol Anger and Mark O'Connor. He recently made his Carnegie Hall debut performing an original composition with acclaimed bassist/composer Edgar Meyer. If all goes according to plan, he will graduate this May with a master's degree in jazz performance from the Manhattan School of Music in New York City, where he currently resides.
Bass:
Bassist Andrew Kratzat is rapidly earning a reputation as one of today's most promising acoustic musicians, equally skilled as a performer, composer, and bandleader. He's a graduate in jazz performance from the University of Michigan, where he and Jeremy would jam until the cows came home and went back out again. At age eighteen, he was the youngest person ever to win the International Society of Bassists Jazz Competition, and way back in high school he was named Best Student Jazz Instrumentalist by Downbeat Magazine.
Guitar:
Kyle Sanna has performed original or improvised music throughout the US and in Canada, Luxembourg, France and Germany. He performs regularly in New York on acoustic and electric guitar, dobro, and lapsteel. Kyle has won awards for Outstanding Performer from the Reno Jazz Festival and the University of Oregon School of Music.
Percussion:
The polish-born Bodek Janke is one of the most exceptional young musicians of the current Jazz and World Music scenes. Based in New York City, he is a cultural commuter between the USA, Kazakhstan, Russia, Poland and Germany. With his playing, Janke creates a new, distinctive style, merging drumset with a wild variety of instruments and drawing upon African, Indian, Eastern European and Latin American music traditions. He plays World Music with a jazz attitude and Folk Music with a contemporary language. And, above all, this "shaman's" energetic and expressive performances and compositions captivate every audience.
"Jeremy is an excellent musician." - Chick Corea "
Jeremy Kittel is one of the most brilliant of the new crop of terrific young fiddlers. His excellence at interpreting and extending the Celtic fiddle tradition are exceeded only by his startling inventiveness and poise on jazz violin. Listen for him." Darol Anger "
Jeremy Kittel is one creative violinist on the move. Artistically he has got the stuff, and a fulfilling career surely awaits him… I believe that
Jeremy will have a lot to show us heading in to the future." Mark O'Connor It's a much over-used cliché, but I really believe this is what genius sounds like. Highly recommended! Jam Rag, March 2003 Jeremy is just too damn young to play as well as he does... --Fiddler Magazine
Kittel is an amazing fiddler. --Strings Magazine