John and Mary
33% of 10,000 Maniacs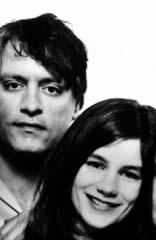 The folk duo John & Mary came together in December of 1989 when John Lombardo's rock band and Mary Ramsey's classical music trio were coincidentally booked on the same bill. John had recently parted company with his old band, Jamestown, NY's internationally acclaimed 10,000 Maniacs, after five years of endless touring and recording. He had been a founding member and principal composer from their inception in 1981. The Maniacs' critically praised major-label debut, The Wishing Chair (1985), never found the large audience that their later work enjoyed on Top-40 and Alternative Rock lists, yet was viewed in some quarters as a seminal record linking traditional influences with the contemporary new-wave movement.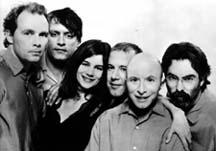 10,000 Maniacs
Meanwhile, in the same college town where many of the Maniacs' early recordings were produced, Mary Ramsey was emerging as a highly regarded classical musician through stints with the Erie Philharmonic Orchestra, the Buffalo Philharmonic Orchestra, and her own Lexington String Trio. Though she had been playing the violin and viola since the age of 5, her vocal abilities had yet to be discovered.
Lombardo and Ramsey performed for the first time busking at Buffalo's Allentown Art Festival in the spring of 1990, with John singing mostly his own songs and Mary accompanying on violin and viola. It was at this point the two decided to work on writing and performing music together more seriously.
Within six months, John & Mary were signed to Rykodisc Records and began work on their debut project, Victory Gardens. Recorded at Mitch Easter's fabled Drive-In Studio in Winston-Salem, NC, the duo was joined by John's ex- bandmates, Robert Buck and Jerome Augustyniak, as well as Ronnie Lane (Small Faces), Joey Molland (Badfinger), and Augie Meyers (Sir Doublas Quintet, The Texas Tornadoes). The album was among CD Review's Top 100 Albums of 1991.
The duo played extensively, crisscrossing America before venturing overseas for dates in England, Holland, Germany and Austria in the summer of 1992. Their second album, The Weedkiller's Daughter, was released in 1993. Once again, Buck and Augustyniak were enlisted. Special guests included Alex Chilton (Big Star), Mary Margaret O'Hara, Bob Wiseman (Blue Rodeo) and the English folk-guitar legend Martin Simpson. More touring followed, including opening for the 10,000 Maniacs and Warren Zevon. The duo toured once more as a full band, with help from Victor DeLorenzo (Violent Femmes), Brad Jones (Freedy Johnston, Jill Sobule), and John Ashton (Psychedelic Furs). Meanwhile, Mary was a guest on records by Ani DiFranco, Billy Bragg and the Goo Goo Dolls. 10,000 Maniacs recruited her for both Our Time in Eden (1993) and MTV Unplugged (1994) as well as two national tours.
Upon the sudden departure of Natalie Merchant, John & Mary were invited to join (or in John's case, rejoin) 10,000 Maniacs. The group signed with Geffen Records and released Love Among the Ruins in the summer of 1997. The group completed a coast-to-coast 45-city tour of the U.S. in the fall of 1997.
After four years of complete dedication to the band format, John & Mary have decided to go back, whenever possible, to performing a blend of the old and new in intimate acoustic settings. The Night Eagle Cafe is the perfect environment for this gently flowing, accessible example of musical grace. Says the New Music Report: "Charged by Lombardo's 12-string, and stirred by Ramsey's crystalline vocals and passionate strings, this duo weaves a fine cloth of melody that becomes more entrancing with each listen."