John McEuen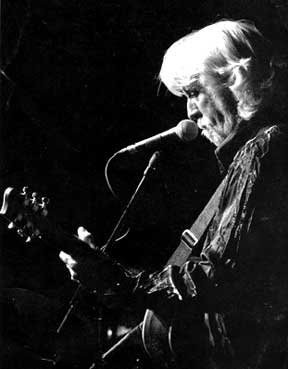 A broad spectrum of music Americana, with a bit of "the old country" music thrown in for good measure, has made John McEuen known as America's instrumental poet. His musical impressions from over 30 years of worldwide travels are brought to the stage with performing expertise that sets him apart from others, and focuses on acoustic guitar, banjo, fiddle, and mandolin. A founding member of the Nitty Gritty Dirt Band in summer of 1966, after 21 years began to broaden his artistic pursuits. Multi-instrumentalist McEuen ventured into varied musical genres, taking his music and other talents to different formats including television specials, film scoring, unusual award winning CDs and concert production while keeping up an active road schedule both solo and (as of 2002) again with his lifetime partners in music.
Onstage, McEuen incorporates his vintage instruments which he has taken to international venues, with instrumental wizardry that keeps the audience entranced. His love for the history of acoustic music and his joy at being onstage is evident to all those who see him and hear him . . . there's never a dull moment when McEuen is on! With his band, the Nitty Gritty Dirt Band, he has made over 30 albums, including the platinum-selling Will The Circle Be Unbroken, which was instigated by John and and conceived by the band's manager/producer (John's brother) Bill McEuen in 1971 for United Artists.
"In his career so far John McEuen has: Flown 2 million miles and driven a million miles. Done over 10,000 interviews and over 300 television performances. Produced numerous television shows As an interviewer, interviewed diverse personalities from Malcolm Forbes to Emmylou Harris. Played over 5,000 shows around the world." Indisputably "one of the most important recordings ever come out of Nashville" (Rolling Stone, 1972) "...Circle..." is recognized today as a country music milestone and integral part of Americana history and was called by the 2004 Zagat survey "the most important album in Country Music" The music John performs today evolved from early inspiration from seeing The Dillards in his native Southern California, and music he made going down that early road with various artists, including Jose Feliciano and Michael Martin Murphey (prior to the formation of NGDB). Then, in 1966, "a bunch of guys playing together at McCabe's Guitar Shop (where John was teaching banjo at the time) in Long Beach, California, joined forces to form The Nitty Gritty Dirt Band. McEuen performing with them, playing everything from "folk to rock to country ..." All this has led him to continuing recent successes in new frontiers. John is still touring with the Dirt Band today - the group is coming up on 40 years since that beginning!