Kalb, Grossman and Katz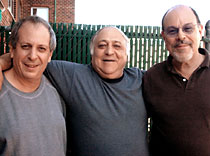 Danny Kalb has long been recognized as one of America's foremost guitarists. Born into a musical family, Danny was raised in Mount Vernon, NY. He picked up the guitar at age 13 and he hasn't put it down since. A protege of the great Dave Van Ronk, Danny Kalb established himself in New York's seminal folk and blues scene where he was first known as a solo performer and session player with Phil Ochs, Judy Collins, Pete Seeger and others. He later became one half of the The New Strangers with Sam Charters and Dave Van Ronk's Ragtime Jug Stompers. In 1965, Kalb founded the Verve/Folkways recording group, The Blues Project, with Al Kooper, Roy Blumenfeld, Andy Kulberg, Tommy Flanders and Steve Katz. In the early seventies, Danny & Stefan Grossman recorded an album together called Crosscurrents. Danny still performs in clubs, teaches guitar and records. His touch on the guitar is as exciting and as individual as ever.
Guitarist, educator and historian Stefan Grossman was a student of acoustic blues and gospel singer/guitarist Rev. Gary Davis. Beginning when he was 15, Grossman studied with Davis on weekends, spending eight to ten hours at his house in Harlem, absorbing all he could. In the early 1960s, Grossman formed the Even Dozen Jug Band and worked with the political rock band the Fugs before moving to Great Britain. In 1968, he co-founded Kicking Mule Records . Grossman's solo discography goes all the way back to 1966, when he recorded How to Play Blues Guitar for Elektra Records. Grossman's sessionography includes recordings with the Even Dozen Jug Band (which also included such future luminaries as John Sebastian, Maria Muldaur ,David Grisman, and Steve Katz. Stefan concentrates his efforts these days on running his instructional video business, Vestapol Videos. His videos feature guitarists from Merle Travis and Chet Atkins to Dave Van Ronk and Brownie McGhee. He remains one of the world's foremost authorities on acoustic blues guitar.
Steve Katz also studied guitar with Dave Van Ronk and the Reverend Gary Davis. There were many other young musicians around Greenwich Village during this time who were as obsessed with American roots music as Steve and Stefan. Many would look for a common ground in which to play music together and they found the common ground in jug band music.Along with John Sebastian, Maria Muldaur, and David Grisman they formed the Even Dozen Jug Band and recorded an album for Elektra in 1964. In 1965, Steve joined Danny Kalb in the Blues Project. They recorded three albums while together in their first incarnation. Steve then became a founding member of Blood, Sweat Tears , which won three Grammies and sold millions of records worldwide. After BS&T, Steve went on to produce two Lou Reed albums, both of which went into Billboards Top Ten. His last official band membership was with American Flyer in the mid-seventies. Steve then went on to become a Vice-President of Mercury Records where he produced the seminal Irish band, Horslips. Today he is a professional photographer and is partners with his wife Alison Palmer, a ceramic artist