Kelly Joe Phelps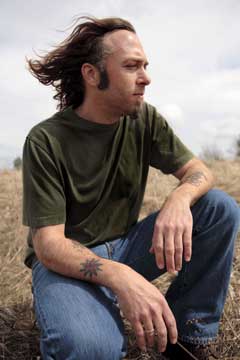 As a tunesmith, Kelly Joe Phelps already has a proven track record, with a catalogue of original songs infused with what The Washington Post calls poignancy, passion and spirituality. But on his sixth studio album, the Portland, Oregon-based musician still felt the need to retrofit new elements into his songwriting. Part of it is shifting focus, away from music heavily driven by guitar to music thats more driven by the song, explains Phelps. The record is stripped back in relation to the last two studio efforts, balancing combinations of solo, duo, trio and quartet and bridging the gap between my early solo recordings and later band outings.
Other talk about Kelly Joe:
Steve Earle: "Kelly Joe Phelps plays, sings, and writes the blues. HOLD UP before you lock that in - forget about songs in a twelve bar three chord progression with a two line repeat and answer rhyme structure - though he can certainly do that when he wants to. I'm talking about a feeling, a smoky, lonesome, painful - yet somehow comforting groove that lets you know that you are not alone - even when you're blue. Play on brother."
Bill Frisell: "I first became aware of Kelly Joe Phelps when my daughter (who was 9 or 10 at the time) brought home a cd ('Lead Me On') from the Vancouver Folk Festival. "You might like this, Dad" she said. Boy was she right. I've heard Kelly Joe mention that he's been inspired by people like Roscoe Holcomb, Robert Pete Williams, Dock Boggs, Mississippi Fred McDowell, and others. He seems to have absorbed all this (and all kinds of other stuff as well) and come back with something all his own. Sounds like he's coming from the inside out. The bottom up. He's not just playing 'AT' the music or trying to recreate or imitate something that's happened in the past. He seems to have tapped into the artery somehow. There's a lot going on in between and behind the notes. Mystery. He's been an inspiration to me."
Tim O'Brien: "When I heard Kelly Joe the first time, I was amazed how it all made so much sense. His music is a wide world with three hundred and sixty degrees of influence.... Kelly Joe is a musical slight of hand master. He pulls world wide sounds out of his guitar.