Leni Stern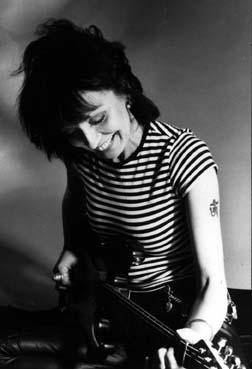 The simple beauty of Leni's music is what you notice first. Then one becomes quickly aware that she is not interested in rarefied music, cloaked in mystery and obscure references either musical or literary. Instead, Leni uses the jazz vernacular and song lyric to be emotionally clear. The honesty is unexpected; the music, compelling. The three-time winner of the coveted Gibson Award for Best Female Jazz Guitarist (1996-97-98) is "tracking territory virtually unknown to women in jazz" (Jazziz). Guitar Player adds that "Leni has an inner strength and confidence that is communicated on her instrument with quiet power."

Leni Stern is small-boned and soft-spoken. Her accent is slight, and her conversation is punctuated by warm smiles that come readily and often. She speaks affectionately of her cats, and pays particular attention to the children in the room. Her gentleness is perhaps not what you'd expect from one of the most distinctive and influential voices in jazz today, but then Leni isn't one whose work is fueled by outside expectations.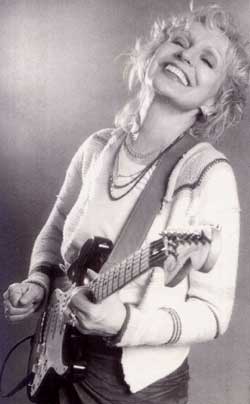 Leni started playing guitar and piano as a child in her native Munich, and at 17 formed her own acting company. Her radical productions sold out across Europe and attracted the attention of the press. In the late '70s Leni turned her attention to music, and came to America to study film scoring at the Berklee College of Music in Boston. Her love for the guitar eventually won out when she moved to New York City to play in a variety of rock and jazz bands, which ultimately led to a group of her own, seven solo recordings, frequent contributions to other's recordings, a textbook on jazz composition, and her newest release, Black Guitar.
Her multiple Gibson Guitar Awards honored her presence on the global jazz scene and confirmed that both Sterns are major players. (Her husband is the technically ferocious and former Miles Davis sideman, Mike Stern.) "Leni [has] an inner strength and confidence that is communicated on her instrument with a quiet power," says Guitar Player Magazine. Jazziz adds, ""Leni is tracking territory virtually unknown to women in jazz."
That new territory came to the fore with Black Guitar, where she has added vocal tunes cowritten with singer/songwriter Larry John McNally (best-known for his work with Bonnie Raitt). Her liquid guitar work weaves throughout a strong collection of beautiful tunes that feature her brushed vocals in a shortcut to the audience's emotional core. This step into vocals was unexpected in someone who had been so closely identified with the jazz vernacular. It makes sense, however, coming from someone who has always been known for forward motion in her field and a "sunny countenance."
Although she may not have intended this recording to serve as a backdoor into jazz for the unfamiliar audience, it certainly functions as a welcoming introduction. Leni adds, "Being a jazz player for so many years, people come up to me, and they always feel as if they have to know something, as if there's some kind of secret about jazz that they need to feel let in on. By singing, in a way, I feel that I let them in. It gets to their emotions in a purer and more direct way than the music does instrumentally."
Her performances are the best indicator of her music's accessibility. At her Night Eagle debut last fall, Leni's sweet and laid-back vocals and narrative lyrics were wrapped in "warm and wandering" guitar. This was a jazz that drifted, silky and almost scented, through the room. This was music to inhabit, not simply to drift from a stage. It was lovely to listen to and not so foreign after all.