Lisa McCormick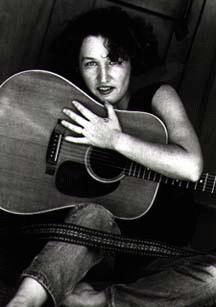 Overall Grand Prize Winner in the USA Songwriting Contest in 1997, Lisa McCormick is fast gaining notoriety for her alternative folk/rock songwriting and performance. Characterized by daring and sophisticated lyrics, infectious guitar rhythms and a powerful singing voice, McCormick's material has appeared on nationally syndicated radio programs, including World Cafe and Acoustic Cafe. Her CD Right Now was released on Rising Records in 1996 to immediate acclaim, earning McCormick the title Artist of the Year, and the CD Record of the Year by Maine Public Radio. Right Now, produced by Jonathan Edwards, features some of the northeast's finest session musicians including Duke Levine, Gary Burke, and Graham Maby. In 1997 Right Now received preliminary nominations for Song of the Year, Pop Female Vocal Performance, and Pop Album of the Year for the 40th Annual Grammy Awards.

In the summer of 1997 McCormick took the Grand Prize in the MIXX Magazine Indie Band Contest, a rock performance competition which reviewed hundreds of bands nationwide, where she was joined on stage by bassist Graham Maby. McCormick was also selected to showcase at the Songwriter's Hall of Fame, sponsored by the National Academy of Popular Music. Other honors include a Fellowship Award in Music from the Vermont State Arts Council, recognition in the Billboard Songwriters Contest, and an invitation to appear at the Falcon Ridge Folk Festival New Artist's Showcase in 1997.

Performing Songwriter Magazine chose McCormick's single "Gravitate" for their Best of the Year CD, and Boston's New England Performer Magazine describes McCormick as "...an absolute genius. She is funny, sexy, smart, literate, sardonic, witty, and sings with all the power of a rock diva."

Of her own work, McCormick states, "Honesty, inquisitiveness, and a sense of humor are primary tools in my work as a performing songwriter. Subjects exist everywhere: in the news, in memories, in overheard conversations. With language, melody and rhythm, I assemble sketches of our tiny inch of history--these 1990s, with their unique spin on love and sex, science and culture, heroes and hope."