Lisa Mascatiello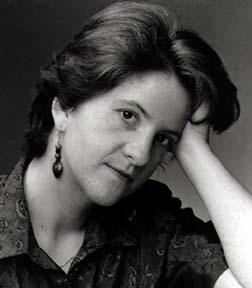 It helps to know people. The Night Eagle Cafe in Oxford has recently hosted a number of musicians from all over the world, and Susan McKeown, Greg Anderson, Patrick Ourceau and Gearoid O'hAllmhurain are among those from the Irish music community in New York City who received a particularly warm welcome from the Night Eagle's enthusiastic audiences. They and their colleagues have spread the word that this is great place to play. T

Lisa Moscatiello is a powerful vocalist who is known as much for her soaring range as for her instincts for choosing unforgettable and sometimes unorthodox songs. Her performances are characterized by humor, intimacy and great passion, and audiences can be guaranteed an evening of timeless melodies and hard-hitting lyrics. Although her first love is traditional song, her influences include jazz, opera, bluegrass and contemporary classical music. Lisa's voice has been described as "spectacular...rich in tone and drenched in emotion" (Geoffrey Himes, Columbia Flyer), "sensational" by SingOut! and "terrific" by Billboard.
In recent years she has received over a dozen Washington Area Music awards, both as an individual and as the former lead singer for the folk-rock band The New St. George, and in 1997 she became a member of the New York-based Irish- fusion sextet Whirligig. Lisa has performed in a number of major festivals and concert series in North America, including the Philadelphia Folk Festival, Toronto's Mariposa Festival, the Black Mountain Festival, and the Philadelphia Folksong Society Concert Series.
She is currently touring in support of her debut solo album, Innocent When You Dream. Taking its title from an off-kilter lullaby to Tom Waits, Innocent When You Dream is a dark and magical journey of romance, loss and redemption. One of the distinguishing features of the album is the use of unusual medleys to bring together traditional and contemporary elements: Janis Ian's devastating cautionary tale of a thrilling but violent man, "His Hands," is paired with a terrifying rockabilly/funhouse rendition of the classic Appalachian ballad "House Carpenter," about a woman who has an affair with the devil. The title cut, "Innocent When You Dream," is given a continental treatment on string quartet and clarinet, and it is paired with a harp and viola da gamba arrangement of Lisa' setting of William Butler Yeats' poem "When You Are Old."
Other highlights include Richard Thompson's stately folk-rock hymn "Now Be Thankful", "If He Were You," a cabaret art song by Phillip Glass protege Lisa Bielawa, and a lush and tender rendition of the Scots ballad "Bogie's Bonnie Belle" featuring button accordion and sultry blues guitar. Guest artists include Sue Richards (Celtic harp), Bruce Molsky (fiddle), Billy McComiskey (button accordion), Dave Chappell (electric guitar), Rico Petruccelli (electric bass), and Robin Bullock (acoustic guitar, cittern).
Dirty Linen, arguably the most influential publication featuring folk, acoustic, and world music, says this about her recent disk: "With this excellent new album Lisa Moscatiello now rightfully takes her place among the finest singers in America today." But her live performances convey an incomparable vocal richness, accompanied by the warmth of her acoustic guitar. The Washington Post adds, "It's Moscatiello's ability to fully inhabit these songs that keeps you coming back for more."