Mary Gauthier and Slaid Cleaves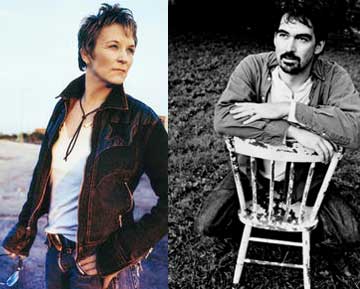 Two of the strongest singer/songwriters in the genre today. Slaid Cleaves has graced the Night Eagle stage one time, traveling to our hills from Texas, although he's originally from Maine. Mary Gauthier who once lived in the Boston area but now lives down south has also played the Night Eagle before, but not nearly enough. She won huge acclaim for her "Mercy Now" CD a couple years back; even Bob Dylan played a song from it on his radio show! If you like tunes that are about something, this show is for you.
Mary Gauthier -
"Another day, another night. Another night, another day We want to go home We can't find the way -- Can't Find the Way,"
Mary Gauthier In the case of Mary Gauthier, four words are worth a thousand pictures. Between Daylight and Dark, her new Lost Highway album, finds her aiming her compass at the sky and searching for home. It is from this longing for home that this group of songs has emerged, and they fill Gauthier's new album with both hope and anguish, with faith as well as fear. Mary Gauthier knows these places well, having traveled through a night that had stretched into years, from a turbulent Louisiana childhood through odd juxtapositions of accomplishment and devastation. The result is reflected in the music, starting as a trickle of songs almost from the moment of her sobriety and swelling into the stream that fed her first two self-released albums (Dixie Kitchen, Drag Queens in Limousines), an indie-label release (Filth and Fire), and her stunning Lost Highway debut (Mercy Now). Acclaim has followed Gauthier. Mercy Now was continuously "discovered" and lauded in the two years following its release, earning mentions on a score of year end "best of" lists in '05, including the Los Angeles Times, the Chicago Tribune and No Depression. The album even received a benediction from Bob Dylan, who included one of its songs on a playlist for his XM Satellite Radio program.
Gauthier's evolution as a songwriter continues on Between Daylight and Dark, though the scenery has changed. You have to look closely to see the difference, but it's there, like a flower pushing through rubble: an intimation of hope, a trace of sunrise in the troubled sky. It's in the understanding that even as a lover departs on "Before You Leave", Gauthier sings, "the light that used to shine behind your eyes gets brighter as you walk away". In the weary wisdom bestowed by love on "Same Road," Gauthier knows that "when you flirt with the shadows, darkness snakes under your skin" – yet even here, there's hope: "The only way back home is to let the light of truth come in." "I'll never get rid of that wild-child, going-to-jail, crazy-adolescence story," she admits. "But I've moved way past that thing. I'm ten years into songwriting. I've finished my fifth record. I've been a sober woman for a very long time, for many years longer than I wasn't. I've matured – and my writing has matured. And I am learning how to allow myself to be vulnerable, to step out on a ledge and hang there, as an artist, and as a woman; to allow my writing to expose parts of me that I have always feared showing - my softer side, my fragility, my needs." Gauthier has always been a unique lyricist, with an ability to illuminate even moments of devastation and despair in beautiful hues. That gift is evident throughout Between Daylight and Dark, though her perspective has shifted somewhat. "As a writer, I'm figuring out what my job is today, in this instant," she explains, "What I did yesterday does not matter. I am more in the moment. I know instinctively when I'm onto something, and then I have to chase that feeling down until I find what it is I need to say in the song. My songwriting changes as I change, and though it's odd to admit it, I discover a lot about who I am in my songwriting. I can see how I've changed by looking back at how my songs have changed. The songs on this record are a little more fragile, a little more tender, and a lot more hopeful." "No more running away. I've made up my mind to stay. I'm gonna stand my ground, stare my demons down …" "I Ain't Leaving," Mary Gauthier
Slaid Cleaves..
Doing roadside van repairs, hauling equipment in and out of venues, answering a dozen e-mails a day, planning and booking tours and their financial details, these are not things Maine-raised songwriter Slaid Cleaves envisioned when he said goodbye to a string of day jobs and became a musician full time. But perhaps these mundane tasks ground him, for he is revered for turning out rawneck songs that capture the essential struggle of the Everyman within the resin of a fine melody. The characters that traverse his open sky songs are down but never out, forever waiting on something better, something earned. You don't know whether to feel sorry for the poor saps for their lot in life or envy them their indefatigable hope. Be they race track dreamers, heartbroke gamblers, or barroom fighters, all yearn for a better deal but accept their fate with resignation and even the wisdom of those who can see things for what they are. Cleaves is skilled at summing up the whole drift of their lives within their midlife revelations while tightly wrapping the package with sing-along melodies.