Lynn Miles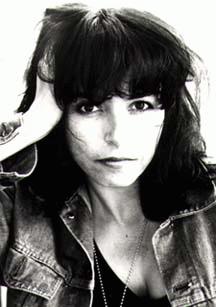 As the ethereal singing, gentle acoustic strumming and sweet harmony by Lynn Miles emerge, one recognizes the qualities of an artist whose star is, without doubt, rising. She sings with a conviction and integrity suffused with truth and untarnished by trend. On "Slightly Haunted," her Philo Records debut, she blends folk and pop influences into an evocative whole described by Folk Roots as an "altogether wonderful thing". Lynn Miles is clearly one of music's most auspicious new arrivals. Billboard magazine certainly seems to think so: the editors and writers picked her as one of the 10 best performers of the year, alongside the likes of Beck, Curtis Mayfield, and Sheryl Crow.
A native of Canada, Lynn Miles was born in Sweetsburg, Quebec, and has traveled around the world. She lived for a time in places as far distant as Spain, Austin, and Alaska. As a child she studied violin, flute, piano and took voice lessons from an opera singer. Early influences include Carole King, whose album "Tapestry" was the first Miles owned, Jackson Browne and The Eagles. Lynn started writing at the age of 10, and hasn't stopped since. She hit the tour circuit in her early 20s, crossing the frozen tundra of Canada and across the U.S. The loneliness of a woman alone on back roads and the desolation of the northern continent are all echoed in her lyrics.
Miles signed a publishing deal with Criterion Music, a company instrumental in the career development of Lyle Lovett. Her latest, "Slightly Haunted," is a culmination of years of fine-tuning, and it shows. The album is a cohesive, uncompromising, and intensely beautiful collection that blends folk, pop, and even some new country influences into an original statement of her own roots. The album is turning heads everywhere, including CMJ magazine who said, "Every once in a while an unassuming little album passes across our desk that has such extraordinary melodic brilliance that we wish we could force everyone in the world to sit down, have a cappuccino, and listen to a track or two."
Doors opened for Miles in both the U.S. and European markets with this album. A video for the song "I Always Told You the Truth" received widespread airplay in Europe, and was for many weeks the highlight of CMT USA's cutting-edge and highly rated music video program.
Although the song "I Loved a Cowboy" has seen alot of airplay in central New York, it is her live performance that has been most anticipated in this area. Of her New York City performance, Jon Pareles writes, "Lynn Miles, a songwriter from Ottawa who was making her New York debut, brought an otherworldly purity to her own tales of love going wrong. In songs from her album...she showed a gift for clear melodies and a sweet, tremulous voice, filled with aching delicacy; she made being forlorn sound like a state of grace." "The evening's main revelation, though, was Lynn Miles. She sang half a dozen original songs, and every one boasted a glorious pop melody that rose and fell over surprising chord changes, " wrote Geoffrey Himes for The Washington Post. Central New Yorkers will get their chance when Miles once again appears at the Night Eagle Cafe. Lynn Miles