The Nields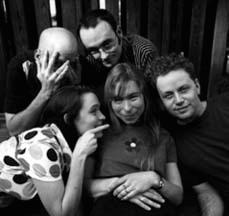 To hear music critics around the country describe this five-piece band, the standard "folk-rock" classification seems a bit too bland. Try instead "Alanis fronts the Indigo Girls," or maybe "Equal parts Beatles, Cranberries and Joni Mitchell." Personally I prefer "Pete Seeger meets Smashing Pumpkins." The point is to convey a tight band with clean harmonics, muscular rhythms, and always literate writing steeped in intelligence.

Among bands The Nields are unique. They bring a musical plaid of folk and pop elements, with a little grunge tossed in to insure that they clash when measured up to today's radio divas and the omnipresent MTV band du jour. They write strange, quirky songs about teenage girls coming of age, dysfunctional friendships, and living in a parent's shadow. They are unclassifiable, getting airplay on college, Triple A, alternative and folk stations across the country. Fueled by inventive promotions, including an interactive web page, their fan base is ardent and growing.

The Nields story began with two sisters. Nerissa (guitar/vocals) and Katryna (lead vocal) grew up singing folk songs in the kitchen and back seat of the family car. In the late '80s The Nields expanded into a trio when they met grad student and guitarist David Jones. He thought he was going to be a theatre director; instead, he married Nerissa and took her last name ("Just like the Ramones!" he says). Bassist Dave Chalfant joined the band in time to produce their third self-released recording Bob on the Ceiling (June '94). When Chalfant asked his buddy Dave Hower to play drums on five tracks, yet another Dave felt the magical sway of The Nields and entered the fold.

This chemistry of Daves and Nields led to the Gotta Get Over Greta release (Razor & Tie), described as a "gentle explosion of high-strung harmonies and spare arrangements of songs that snap like cinnamon sticks" (Musician). Their newest album was just released in June, and The Nields will be featuring many of their new tunes at the Night Eagle performance. "It's like a sacred gift we're giving," says Nerissa.