Northern Lights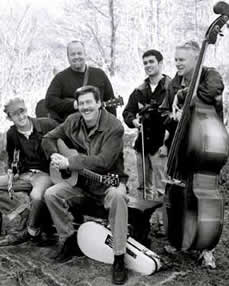 Northern Lights, the Northeast's superlative veteran string band, doesn't qualify as typical traditionalist. But over a three-decade career, the band has created its own tradition - a constant exploration of new musical territory without ever losing its acoustic and vocal bearings. From 1990's "Take You to the Sky," to 2005's "New Moon" (Fifty-Fifty Music), the band has fused an eclectic mix of traditional roots music, rock, country, soul and gospel with the high, lonesome vocal sound and instruments of bluegrass.
The group, now a quintet, has performed at festivals and concert halls from coast to coast and abroad, including the Newport Folk Festival, Falcon Ridge Folk Festival, American Folklife Center, Barns at Wolf Trap, Strawberry Music Festival, Walnut Valley Festival, Smithsonian Institute, Festival Sur la Route de Tullins (France), Bumbershoot Festival and the Winnipeg Folk Festival.
They have recorded 10 albums, including "Three August Nights", a live CD with the late legendary Nashville fiddler Vassar Clements, who often performed with them, and three of their CDs reached the top ten of Bluegrass Unlimited's National Bluegrass Survey.