The Nudes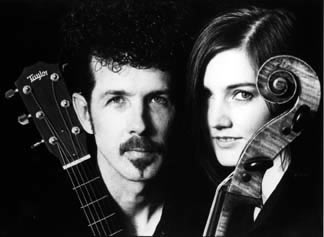 Cheered by fans and critics alike, The Nudes are modern-day troubadors who do just fine with a truly original sound that defies categorization. Since their debut release in 1993, The Nudes have performed in 600 concerts across the country. "The Nudes have earned a devoted following for their amazingly full sound and powerful songwriting," says The Charleston Gazette. With their attention-getting name and "modern-jazz-inflected-new-acoustic-pop folk" contemporary music, The Nudes are also the tallest pair on the circuit, performing what they call "acoustic music for the body and soul." When asked what their music is about, Walter Parks explains," All the songs are different. There's not a single message. But there is a common thread that explores being at peace with oneself and finding one's place in the world." Stephanie Winters adds,"[In] the instrumentals... we use our voices. We create lush harmonies with the cello, guitar and two vocals. Also, we improvise, creating this excitement, this edge.."

Seeking a cellist for his songs, Walter Parks placed an ad in the Village Voice. On the lookout for a musical setting where she could sing, improvise, and play cello, Winters saw the ad and gave Parks a call. And so The Nudes were born. Named for the classic nude paintings and sculptures that capture sophistication and earthy sensuality, The Nudes strive to express these qualities in their music.

After hundreds of performances across the country, the Nudes' grassroots following of fans clamored for the release of their second CD, Velvet Sofa. Engaging audiences from colleges to folk and jazz festival stages in 26 states, the Nudes continue to prove their cross-generational appeal. Their mailing list is fast approaching the 5000 mark, and it exhibits a diversity of listeners cutting across all ages and segments of society. A recent cover appearance on The Leak magazine and a glowing Critic's Choice review of their debut CD in Billboard add to the favorable buzz that's building around these two.

Velvet Sofa was mixed at Jimi Hendrix's former home and studio, Electric Lady Studios, and is the second release on the Acoustic America label. Writers in Billboard echo these giant steps forward for one of the most unusual and dynamic groups of the decade: "The Nudes are going to be heard from." That sentiment is likely echoed by Stan Lynch of Tom Petty's Heartbreakers and Manolo Bedreno, Weather Report's percussionist who provided guest appearances on the record. But it is their live performance that is sending new fans into the streets. Their show in Charleston was named as a Favorite Local Concert, and was described in The Charleston Gazette: "This set of stylish, rockified troubadours set the house ablaze with their large clean sound, octave-vaulting vocals and sizzling instrumentality. More than 100 audience members awarded them a standing O, after dancing in the aisles. Most energized, soulful show I've seen since Bruce and the E-Streeters toured years back, and the Nudes access the Force with fewer instruments."

The Nudes have appeared with George Benson, Chicago, Shawn Colvin, Bela Fleck and the Flecktones, John Gorka, Richie Havens, Hot Tuna, Leo Kottke, Alison Krauss and Union Station, Taj Mahal, and David Wilcox.

Florida-born Walter Parks was an accomplished jazz guitarist before he turned his attention to singing and songwriting and moved to New York City. Stephanie Winters is a New York native and a graduate of The Juilliard School, Purchase College, and Columbia University.