Pat Macdonald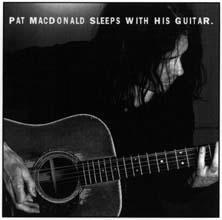 Pat MacDonald Sleeps With His Guitar is a voyage into a musical and lyrical dreamtime with one of the preeminent songwriters of the modern age. Best known as the frontman of Timbuk3, MacDonald amended the contemporary lexicon with his song "The Future's So Bright, I Gotta Wear Shades," an international Top 20 hit, while also forging elements of the now hugely popular modern rock sound with Timbuk3's "techno-roots" style.

In his first solo endeavor on ARK 21, MacDonald generally eschews his gift for speaking (and writing and singing) his wisdoms through various unique personae and offers an unusually personal work instead, where even the characters comment on him. Written and recorded following the breakup of both Timbuk3 and Pat's marriage to his musical partner, Barbara K., it offers multiple meanings, like most anything Pat writes. But it also shifts his focus from frequently humorous and biting social commentary to sharp-eyed exploration of his own life, heart and art.

Since Timbuk3 was discovered by the MTV show "The Cutting Edge" at the Hole in the Wall in Austin, Texas, and then signed to IRS Records, Pat MacDonald has distinguished himself as an original and digited songwriting voice. "Shades" landed Timbuk3 on "Saturday Night Live," helped them win a Grammy nomination, and launched an international career for the duo. A string of innovative recordings, consistent critical acclaim and worldwide touring established an artistic presence beyond the initial big hit for Timbuk3, who eventually coalesced into a foursome.

All along, MacDonald's songs like "Shades" and "Hairstyles and Attitudes" have garnered offers that now total in the millions for use in advertising campaigns (most recently, and ironically, by McDonald's), none of which Pat has accepted. This isn't to say that MacDonald is some kind of artistic snob--he's cowritten songs with varied artists such as Aerosmith (who also recorded an unreleaased version of "The History of Man," which Pat does on this album), Jill Sobule ("The Secretive Life," the theme song to "Harriet the Spy") and Italian superstar Zucchero, among many others. He's also had numerous songs featured in soundtracks (for films like "Something Wild," "D.O.A.," "Untamed Heart," and "The Texas Chainsaw Massacre 2"), and recently collaborated on a project with noted Japanese composer Ryuichi Sakamoto.

Pat MacDonald Sleeps With His Guitar is something of a song cycle that explores the flip edges of human relationships, and the sharp edges that lie between them. As with MacDonald's past songs, there's a potent sense of metaphor and wordplay, yet one finds some of his most harrowing and direct expression here as well.

The album's characteristic, almost narcotic musical syle comes in large part from Pat's trusty, beat-up 1959 Martin D-28 acoustic guitar, tuned low. Recording his voice close and intimately, MacDonald is complemented by assorted percussion by former Timbuk3 drummer Wally Ingram, along with some choice yet sparing instrumental touches. Ultimately, the album is focused on the songs, and driven by the power of the lyric and groove.

"These songs seem to be mostly about looking for something, and not always knowing what it is," explains Pat. "I always wanted to dig deeper, but when you're trying to speak for a group, there's always that pressure to be 'up.' I'm not trying to bring anyone down here--music is supposd to be an uplifting thing. But there's two ways to lift something: you can come from up above and pull, or you can get down underneath and push. I guess that latter is what I am trying to do now."

So does Pat MacDonald really sleep with his guitar? "Yeah. I do (sleep with my guitar) but it's not a sexual thing. It's not even platonic. It's more like a master/slave relationship. I'm the slave."