Paul Rishell and Annie Raines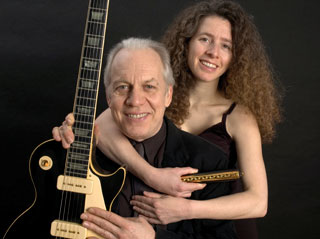 Touring nationally and internationally at festivals, clubs, and concert halls, and playing and teaching at workshops, Paul & Annie have earned loyal fans around the globe. Their music has been featured on various TV soundtracks and radio shows including Americana, Folk, Triple A and Blues formats. They have performed on diverse radio and TV shows including A Prairie Home Companion, Late Night with Conan O'Brien, and PBS's Arthur. Paul and Annie have recorded with Susan Tedeschi, Pinetop Perkins and Rory Block, and continue to perform and record as members of John Sebastian's J-Band. Susan Tedeschi recorded an 'unplugged' version of Paul's "Blues on a Holiday" with Paul and Annie for her second Tone-Cool CD, Wait For Me.
"Paul Rishell's second album features expertly ordered and nuanced updates of acoustic blues songs - he makes the masters like Son House and Robert Johnson speak to us across time." (***1/2) ---DOWNBEAT
"Rishell's ability to convey the essence of acoustic Delta Blues is shocking. His guitar playing is tremendous. His vocals are exceptional..." ---SKYLAND BLUES NEWS
"Raines is the perfect foil for Rishell. Both are sincere lovers of the older masters, and though they have chops to spare, they keep their playing straight and simple, going to the heart of the material...atmospheric late-night music, played with real grit and soul." --BOSTON GLOBE
"She plays so good it hurts!" --Pinetop Perkins
"...both are strong vocalists, Rishell's guitar work is first-rate, and Raines's harmonica is note-perfect." -amazon.com
"There must be some physical explanation for the sheer joy they bring to the blues...lots of heat but also plenty of subtle variation under the theme." -ATLANTIC MONTHLY
"Here's a little piece of rootsy paradise." -SONGWRITER'S MONTHLY
"...they have a musicianly rapport and a wide embrace of styles, from Delta heartache to Chicago drive, that make for world-class blues. Their new I Want You To Know (Tone-Cool,* * * * *) has some of the best recorded performances of the year." --PULSE!