Paul Rishell and Annie Raines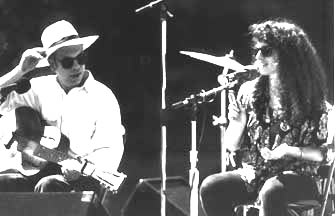 Country blues master Paul Rishell has been recognized as one of the finest of all contemporary acoustic blues players. His debut CD Blues on a Holiday (Tone-Cool) was released in 1990 and received enthusiastic reviews across the country. The Boston Phoenix reported, "Rishell has reached a place resonant as Robert Johnson's crossroads, where authenticity, soul and a sense of purpose and commitment ring out in every note he sings and plays." With the 1993 release of his second CD, Swear to Tell the Truth, Paul garnered national and international acclaim, establishing himself as a formidable interpreter of the past masters as well as an original writer and arranger.

While working on Swear to Tell the Truth, Paul met blues harpist extraordinaire Annie Raines, A rising star herself, Annie has shared the stage with Pinetop Perkins, James Cotton, Ronnie Earl, and John Sebastian, captivating the audiences with her astonishing harmonica work. Her work on the project foreshadowed things to come: Paul and Annie have continued to play together, touring as an acoustic duo as well as with a band, performing and teaching at clubs, festivals, and workshops all over the world.

Their newest CD, I Want You to Know, received four nominations for the prestigious Handy Awards, the blues world's equivalent of the Grammys. It marks the official debut of Rishell and Raines as a team, as side by side they pay tribute to past masters and present musical mastery with both traditional and original songs. Special guest John Sebastian, Ronnie Earl and Jay Ungar round out this highly praised record. Pulse! gave the album 5 stars, and added, "...they have a musicianly rapport and a wide embrace of styles, from Delta heartache to Chicago drive, that make for world-class blues. Their new [album] has some of the best recorded performances of the year."

Year-round touring included their opening for Little Feat on their '97 Northeast tour, and regular appearances with former Lovin' Spoonful leader John Sebastian as a trio or part of his J-Band. Paul and Annie are featured on Sebastian's new release, I Want My Roots (Music Masters/BMG). Annie also appears on albums by Rory Black and Susan Tedeschi.

Annie Raines was born near Boston in 1969. She took up harmonica while still in high school and dropped out of her freshman year at Antioch to pursue a musical career. Fascinated by the sounds of Muddy Waters, Little Walter Jacobs, Big Walter and Sonny Boy Williamson, she spent countless hours listening to and absorbing the music of the Chicago blues masters. She began to play gigs at local Boston clubs, and later traveled to Chicago where she met and played with Pinetop Perkins, Louis Meyers, and James Cotton.

While working regularly on the regional blues circuit, Annie taught harmonica and began developing a style of her own within the blues tradition. Fast becoming one of the most sought-after harmonica players in New England, she had earned a reputation for playing with energy, soulfulness, and taste, but she was ready to take her musical education to a deeper level. Her meeting Paul Rishell was timely, and he lent musical support to her considerable harmonica, piano, singing and songwriting skills.

Paul was born in Brooklyn in 1970. His early musical experience was as a drummer playing rock 'n' roll and surf music in Connecticut in the early '60s. In 1963 a friend introduced him to the country blues recordings of Son House and Robert Johnson, Charlie Patton and Blind Lemon Jefferson. Thus began Paul's lifetime devotion to this uniquely American form of music. By 1970 he was proficient on both acoustic and electric guitar and worked as a sideman and studio player in Boston. He played with Son House, Johnny Shines, Sonny Terry and Brownie McGhee, Howlin' Wolf, and shared the stage with many of his blues heroes. In 1975 Paul began performing regularly as a solo acoustic blues artist, and also attracted a strong following with his own blues band.

In the mid-'80s Paul took some time off to start a family. His daughter Vanessa was born, and he soon began work with Tone-Cool Records which resulted in the release of 2 critically acclaimed CDs. Paul has received national distribution from Rounder Records, which has broadened national exposure to his contribution to the blues tradition. He has dedicated himself to teaching guitar styles of the masters and to educating his audiences about the original recordings of the country blues that inspired him.

Paul Rishell and Annie Raines form an explosive blues combination, infusing their performances with the inspiration of blues tradition as well as the power of their unique musical chemistry.