Roy Book Binder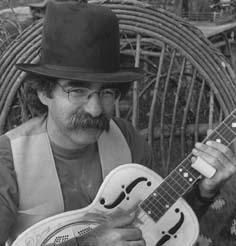 Guitarist Roy Book Binder is a modern-day songwriter and storyteller whose synthesis of blues, early roots music, and bluegrass goes by the name hillbilly blues. The combination worked: critical acclaim has followed in reams of published reviews, and in his inclusion in everything from the Big Book of Blues by Robert Santelli, to Blues Who's Who, by Sheldon Harris. "Both his voice and style have been accorded an acclaim uncommon among white blues artists..." say writers Baggelaar and Milton.

Book Binder listened to the rhythm & blues and early rock 'n' roll before serving in the Navy from 1962 to 1965. While in the Navy, Book Binder was introduced to the blues and began playing guitar. After his discharge he studied at the New School for Social Research in New York, but quit after meeting bluesman Rev. Blind Gary Davis in 1967. Book Binder became Davis' chauffeur and learned the finer points of Piedmont blues from him. There was no looking back.

Book Binder began his recording career, contributing tracks to anthologies for the Kicking Mule and Blue Goose labels in 1968. The next year he toured England with Homesick James and Arthur "Big Boy" Crudup. In 1970 Book Binder recorded his first solo album, Travelin' Man, and began to tour regularly. For several years he worked with fiddler Fats Kaplin, wtih whom he recorded two more albums, Git Fiddle Shuffle and Ragtime Millionaire.

In 1979 Book Binder recorded the solo Goin' Back to Tampa for Flying Fish records, and spent nearly a decade playing folk and blues festivals, college coffeehouses, and small clubs. He also developed a country-roots and bluegrass audience for his hillbilly blues through frequent television appearances.

Book Binder jump-started his recording career in 1988, signing to Rounder Records for the release of Bookaroo!. An album with harmonica player Rock Bottom followed, as did his first live album, Don't Start Me Talkin'. This one followed plenty of other 4-star ratings earned by his earlier discography, but The Maverick Report rated it one of the Adult-Alternative Top 25 albums of the last 25 years. Polk City Ramble is his latest, and in addition to striking versions of songs by Blind Blake, Rev. Gary Davis, Blind Boy Fuller, Jimmy Murphy, and Billy Joe Shaver, the album includes seven Book Binder originals.