Sadie Green Sales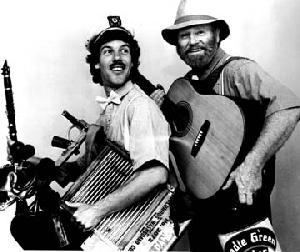 The Sadie Green Sales Ragtime Jugband are Night Eagle favorites who entertain everyone from toddlers to grandparents with their foot-stomping performances.
L Sadie Green Sales is a duo comprising the talents of Timothy Walker and David Driskell, who take both their music and their point of view very seriously. Their music entertains, but there is plenty of room for laughter and surprise in their vigorous instrumentals and vocals. Sadie Green Sales provides an eclectic mix of classic rags, traditional Dixieland jazz, and authentic jugband music that originated along the Mississippi River. They use clarinets, guitar, saxophone, and banjo to accompany their voices, but they are also known for their creative use of more unusual music-making equipment. The washboard, musical saw, washtub bass, gutbucket, cow bells, jugs, and a tuned sixpack all find a place on the stage.
Sadie Green Sales has been entertaining audiences all over the world for over 20 years. They played for servicemen on a U.S.O. tour of the Mediterranean, and have played for several seasons in Great Britain, France, Switzerland, Austria, Luxembourg and Germany. Their music broke language barriers while performing for over 2,000 children in five schools in France. France was also the site of their performances during a 10-day international design festival for newspaper cartoonists and humorists and at some Mont Blanc ski resorts.
Closer to home, they play regularly at coffeehouses and festivals, including the prestigious Kerrville Folk Festival in Texas. They have just completed their seventh album, appropriately entitled "I Got Mine." Many have gotten to know their songs through the broadcast of their music on the British Broadcasting Corporation radio shows. Others have heard their special talents during performances at schools, community concerts, retirement homes, and fairs.
Sadie Green Sales is generously providing this benefit to support the Night Eagle Cafe, source of some of the finest live acoustic music in the state. Ken Millet took over ownership of the Night Eagle last summer, with a goal of providing the area with a steady stream of the best in traditional folk, Celtic, contemporary acoustic, jazz and blues. His strong commitment to the music, support of the performers, and belief in the audience's desire for listening choices has resulted in the Night Eagle's growing reputation as a preferred destination on the musicians' tour circuits. But because the Night Eagle doesn't receive funding from the state, community support via benefits and memberships in the Night Eagle Cafe allow Ken to keep the doors open to an increasing roster of nationally known performers.