Sloan Wainwright Band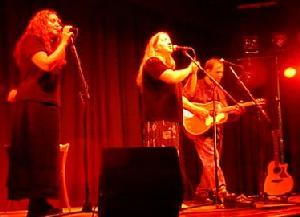 Sloan Wainwright "...is an extremely gifted lyricist...introspective but not self-absorbed, concerned with issues of childhood, love, growth and clarity. Her songs, like her voice, cast a lasting spell at times, drawing the listener into a world full of unquestionably heartfelt emotion," writes The Washington Post. In 15 years of performing, Sloan has mesmerized audiences throughout the northeast and midwest, garnering fresh and enthusiastic reviews. Her songs fearlessly delve into topics of love, loss, and self-discovery, tearing down and rebuilding old beliefs and finding strength from within.

It all started the spring Sloan turned 11. Her parents bought a piano, she discovered the triad, and a songwriter was born. Even as a child the ability to express herself with deeply personal songs and stories came naturally. As a teenager she frequented the open mikes of NYC's West Village. Finding greater inspiration among her famous musical in-laws and outlaws, she enrolled in composition classes, took up the 5-string banjo, and became increasingly involved in the folk music scene.
Detours happen on most musical roads. Sloan's came in the form of marriage, family, and a successful bakery business. The piano stayed in the living room, however, and she continued to perform locally. Her talents found expression in her work for children's theater and dance companies, for which she was awarded several Meet the Composer grants.
In 1990 Sloan won the Open Mike series at the long-lived Town Crier Cafe in Pawling. And with the addition of guitarist Stephen Murphy, the Sloan Wainwright Band was born. Since then, the band has grown to six members and expands and contracts conveniently to suit the needs of each venue. Along with Murphy, the group includes vocalist Liadain Clancy, whose performance credits with the Clancy Tradition date back to childhood. Heart-stopping keyboardist Cary Brown is also a member of the New York Ska Jazz Ensemble and has played with the Skatalites. Percussionist Greg Burrows brings a variety of influences, including jazz and world-beat, to the group. Rounding and grounding the band is folk-rock bassist Doug Wray.
With the colorings of each musician's interpretations for Sloan's powerful voice, the body of songs have taken on a life of their own. Described as everything from folk to rock to blues to jazz, Sloan's music is unique. Undergirding it all is the voice: ""This woman has a voice like nothing you have ever heard. She can hit notes, I could swear, you can't actually hear with your ears. They just vibrate in your bones, so you think you are actually hearing them. Her range must be close to five octaves, and starts somewhere down where only trees and other elemental beings of the earth can hear" (A. Saunders, Falcon Ridge Productions).