Small Potatoes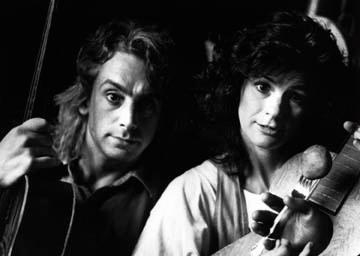 Small Potatoes is Jacquie Manning and Rich Prezioso. They are also "One of the most polished, inventive, and entertaining shows on the circuit," says Michael Parrish of Dirty Linen, the definitive magazine of the acoustic and world music set. This Chicago-based duo has been touring on the folk circuit for only four years and they're quickly becoming less and less of a well-kept secret. They call themselves eclecto-maniacs. They describe their music as "Celtic to Cowboy," and explain that it has taken years of "careful indecision" to come up with this astonishing mix. Small Potatoes is altogether at home with music that ranges from original to traditional, from jazz, blues and swing to Irish, and from gospel to country. Their two recordings, "Raw" and "Time Flies", cover all of these traditions.

When you see Small Potatoes perform, you hear two great voices, fine guitar playing, and a touch of pennywhistle, flute, mandolin, bodhran, and other percussion instruments. Together they present a truly rare blend of vocal, instrumental, songwriting and arranging talents. They have the ability to adapt to diverse musical styles, and slide easily into an upbeat cowboy swing tune or a tender traditional ballad, although there are no rules here either. One constant is careful attention to the little things: the warmth, the humor and a rapport with the audience that makes for a memorable performance.

Jacquie Manning grew up in North Aurora, IL. She got interested in music at Girl Scout camp (which explains a lot). She bumped into the Chicago folk scene in 1976 and got hooked, becoming a regular peformer at clubs like the Earl of Old Town, Somebody Else's Troubles, and Holsteins. She's played Irish music, rock and roll, and has been a stage performer at Renaissance Faires. She is one of only a handful of singers who possess both technique and a tremendous range of emotion. Her voice is uniquely her own, strong and deeply expressive.

Rich Prezioso grew up in Fort Lee, NJ, and believes he may be the only person in his hometown who can yodel. But there's more: this ex-jingle writer found his way to the world of folk music because, he says, he couldn't stand all that money. Actually, he admits, "I could do the music part, but I was terrible at the phone calls, but I do a whole lot better at that now." Rich is gaining a reputation as a guitar master who has played blues, country, folk and rock, in no particular order, as both a soloist and a member of acoustic and electric bands. He also studied classical guitar intensely for five years. You will hear all these influences and more in just one set.