SONiA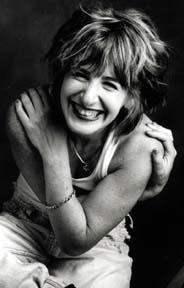 Whether performing as a solo acoustic artist or with the folk-rock band disappear fear, SONiA has become one of the most visible and important toubadours of our time. SONiA's uncompromisingly honest songs blend the personal with the political. She writes frank and captivating love songs and confronts the hypocrisies and biases of our culture with a positive message of openness and optimism.

In 1987, SONiA Rutstein and her sister Cindy Frank started the band disappear fear in their hometown of Baltimore. They released three recordings on their own and developed a following from coast to coast that encompassed both folk fans and rock enthusiasts. Philo Records signed the band in 1994, and released their self-titled album disappear fear, which won the GLAAD Media award for best album of the year. In 1995 Philo reissued the band's acclaimed Live at the Bottom Line and deep soul diver releases.

When Cindy left the band to spend more time with her family, SONiA steered the band in a more pop-rock directions. The result was the 1996 release Seed in the Sahara, which was producd by longtime Springsteen pianist Roy Bittan. The year 1997 was high-profile for SONiA--she was featured on selected dates of the massively successful Lilith Fair tour, along with artists Sarah McLachlan, Jewel, and her own long-time supporters, the Indigo Girls. SONiA was also the most requested performer at Gay Pride festivals nationwide, and she performed in front of huge Pride Festival crowds in Boston, San Francisco, and Atlanta.
Almost Chocolate, SONiA's first solo record, was released in 1998, and she's embarking on a 50-city American tour and a summer European tour. On the new release she delivers songs exploring many aspects of love, from intimate romanticism to anthemic pleas for understanding between nations. With the focus squarely on SONiA's voice and acoustic guitar, the honesty and power of her lyrics shine through. "Fallin" is a poppy, upbeat number perfectly capturing the rush of excitement that captures the rush of new love, while "You" portrays the heartbreak at the other end of the relationship. While songs like "13" are among the most autobiographical she's ever written, issues of social justice are never far from the surface. Whether home or abroad, she's focused on her tireless quest to "disappear fear" through her music.
From the mainstage at the Kerrville Folk Festival in Texas, to the front cover of the Baltimore Jewish Times, to the the Woodford Festival in Queensland, Australia and all the Pride celebrations from Stockholm to Cleveland, international recording artist SONiA and her all new all-girl version of disappear fear continue to deliver their own brand of acoustic activism through rootsy pop melodies, digging the miles of smiles of folks sharing their spiritual rise. Recently nominated for a GRAMMY and an OUT Music Award for her current CD, No Bomb is Smart, Baltimore's favorite singer/songwriter SONiA uses her musical palette to paint post 9-11 issues, hypocritical scenarios, and the simple belief that love is love