Stephan Smith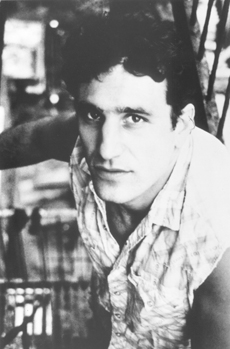 Stephan Smith is on the road to somewhere. Dave Matthews wrote this about him: "Stephan Smith is an incredible songwriter and musician. Keep your ears open. You will see him in the future." He was featured in an article appearing in a Sunday edition of The New York Times. And Pete Seeger, grandfather of American folk music, asked him to update the hands-up protest anthem of the century, "We Shall Overcome." Who is this guy and how can he be only 31?
Smith's parents are an Austrian and an Iraqi. He was raised in Richmond, Virginia, in a multicultural sound mix including music from the Arabic Middle East, Africa, Mozart, Duke Ellington, and the blues and ballads of the American oral tradition. He is also a consummate instrumentalist, having learned the piano at 3, violin at 4, and guitar at 11. He's been playing at fiddlers' conventions throughout his life, studied jazz at Virginia Commonwealth University, and played rock, folk, hip-hop, R&B, old-time blues, Irish and gypsy music. He sings songs in nine languages, three of which he speaks fluently.
After time spent in a punk rock band (no, his current music sounds nothing like that), he ended up in Europe working as an avant-garde jazz musician and migrant laborer, all the while soaking up the music he heard on corners and in fields. Traveling time in the U.S. followed, including touring time with Beat Generation poet and icon Allen Ginsberg, with whom Smith promoted his "Holy Soul, Jelly Roll" recording.
New York City became home in the early 90s as Smith fixed cars and motorcycles, and played in small bars along the East Coast. In 1997 he learned about the alleged police brutality of Haitian emigre Abner Louima, and with the help of friend and veteran rocker Patti Smith, he composed "The Ballad of Abner Louima." The song was immediately picked up by Pacifica Radio Network and played nationally, and suddenly it seemed like he had embarked upon time travel.
"...Smith sang the ode to members of the Louima family, who then invited him to perform it at a prayer service at the Evangelical Crusade church in Flatbush, where Abner's uncle, Pastor Philius Nicolas, presides. The scene was like a flashback to the early civil rights days, as Smith mounted the pulpit dressed in jeans and a faded work shirt, aside from the news crews the only white in the house. But the...Virginian quickly won over the Haitians in the crowd by addressing them in French, strumming an old wooden Dobro, and singing with such downhome sincerity that afterward, Abners' father approached him in tears: (Village Voice).
Now, his debut album on Rounder Records is giving his nationwide audiences something to take home. "Now's the Time" contains 13 original songs and one in the public domain ("Railroad Boy") and all were recorded live to two track with Smith on vocals, accompanied by his acoustic guitar, banjo, and harmonica. The voice is reminiscent of a clearer Dylan or Arlo Guthrie. "It's always been my dream to write songs that would just spread by themselves," said Smith. Where powerful politics and great songs find themselves emerging from one throat, it's safe to say that that's likely to happen.
The heir apparent to Woody Guthrie, this southern boy-street mechanic writes songs 'to change the world,' mixing Appalachian folk and bluegrass fiddle with a healthy dose of chutzpa.--Village Voice. He plays everything, speaks 9 languages, cowrote with Patti Smith, and released his first album on Rounder. Stephan...is an incredible songwriter and musician. Keep your ears open.--Dave Matthews.