Steve Forbert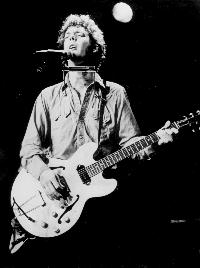 Steve Forbert was born and raised in Meridian, Mississippi, an historic city whose position as a crucial Confederate railroad hub was such that it ultimately drew the unwelcome attention of one General William Tecumseh Sherman (who is said to have proclaimed, as he rode out of sight, "Meridian is no more.").

Sherman's boast notwithstanding, Meridian carried on, and even thrived. In 1897, Jimmie Rodgers (The Father Of Country Music) was born there. In 1954, Steve Forbert emerged, alive on arrival.

Forbert took to music early on, learning to play guitar from a distant cousin of Rodgers' at the age of 10. He apprenticed in the typical array of local bands through high school, after which (like another famous musical Son Of Mississippi) he augmented his income as a truck driver.

But small-town Mississippi life just wasn't cutting it and at age 21 he packed up his songs, his guitar, his harmonica and his ambition and moved to New York City. Taking a room at the "Y" on 23rd Street, he worked various odd jobs by day, and spent evenings busking in Grand Central Station.

Young, confident and generally optimistic, Forbert (and his music) flourished in Greenwich Village's tough-but-romantic bohemian lifestyle where his Southern folkie persona was in marked contrast to the harder edged new wave scene that was thriving at the time. Gigs at the renowned Folk City led to his first paying gig in NYC at Kenny's Castaways while an audition at Hilly Crystal's fabled CBGB's produced opening act slots for artists ranging from Talking Heads to John Cale.

Forbert was signed to Nemperor Records (a Columbia subsidiary), and his debut record, Alive On Arrival, was released in 1978. Like a lot of other talented singer/songwriters who happened to play acoustic guitar and a harp-on-a-rack, Forbert was hailed by critics and promoters alike as yet another "next Dylan."

Despite that awkward baggage, Alive On Arrival was extremely well-received, and 1979's follow-up, "Jackrabbit Slim", proceeded to crack the Top 20 on the strength of its remarkable hit single, "Romeo's Tune."

"Little Stevie Orbit" (1980) and Steve Forbert (1982) met with less success, and a fifth, untitled record was rejected by the label. Forbert's relationship with the parent company was strained, then finally stalled.

"I made my own mistakes," Steve admits, "and I did a damn good job of it. But that was a very difficult time. I couldn't get away from Columbia. They didn't like the record we made, but wouldn't open up a dialogue about what to do about it. I was in limbo, and it took me years to get out of it."

But two discs of astonishingly timeless Forbert material recorded during those years have been released recently (2001's Young Guitar Days and 2002's More Young Guitar Days) that make it abundantly clear that the impasse wasn't about lack of material or talent.

At any rate, the mid-'80s were a bit of a struggle, but Forbert moved to Nashville and landed a deal with Geffen, on which he released two of his best albums, 1988's acclaimed Streets Of This Town (produced by the E Street Band's Garry Tallent) and 1992's brilliant The American In Me (produced by Dwight Yoakam guitarist/producer Pete Anderson).

Forbert's trademark warm vocal rasp took on a welcome patina, and his lyrics reflected a sadder-but-wiser Stevie Orbit, but the tunefulness, the evidence of pan-genre inspiration and the writer's gift for keen observation and evocative clarity were all still there in spades.

Moving to Warner subsidiary Giant Records, Forbert continued to create cutting, stellar music with 1995's Mission of the Crossroad Palms and 1996's spunky Rocking Horse Head, then he closed out the decade with a free-wheeling, informal "live" set, Here's Your Pizza, for Paladin that interleaved fave Forbert originals with rollicking visitations to such diverse influences as Jimmie Rodgers, The Beatles, Tony Joe White, Robert Johnson, Ritchie Valens and Tommy Roe.

Y2K brought the elegant Evergreen Boy for Koch Records, and Forbert's latest work is Any Old Time (due October 8th on Koch).

Dedicated solely to the songs of his Meridian homeboy, Jimmie Rodgers, Any Old Time is a wonderful collection of heartfelt and wholly original treatments of some of the greatest music ever to spring from American soil. Reuniting Forbert with producer Garry Tallent and an all-star band that is hand-picked from across the years of Steve's exemplary career, the disc seems to represent a coming to terms with all that's passed before while clearing the decks for what's yet to come from this singular, passionate artist.

Whatever the future brings, consider it a lock that Steve Forbert will continue to create, to perform, and to bring his unique world view to the people.