TAXI CHAIN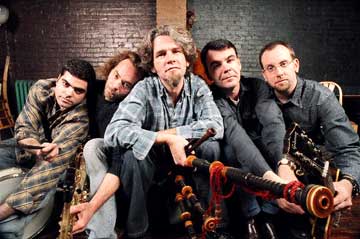 Taxi (tak'si), n. a motorized vehicle used to deliver people from one destination to another.
Often used in the 1960's through 1980's in North American culture as a means of flexible and temporary employment for artists and musicians in their formative years.
Chain (chān), n. a flexible series of joined links. Metaphorically, used as a term to link events, objects or actions. i.e. chain of events, chain letter, chain reaction.
"Somewhere in southern Ontario, planet earth, the aught years 2000…" A goateed bagpiper, an Tolkien saxophone player, a snare drummer in a primeval trance, a guitar player disguised as a tenor drummer and a bass player wielding a calf skin tambourine stand on a street corner unannounced playing an upbeat primal melody. A young couple passing by stop shyly to listen. A street character takes a swig of his concealed brandy bottle and lets out an unearthly howl, dancing a little jig. An elderly couple slow down, listening with shiny eyes and smiles. Two young girls pause to listen. Giggling, they improvise a little step dance together. These passersby are unknowingly bearing witness to the start of a Taxi Chain performance. The quintet turns and waltzes down the street swaying to the music. Ten minutes later in a room shoulder to shoulder with sweaty bodies the band launches into an instrumental that sounds like a mad Highlander let loose in the middle of a New Orleans street party.
And there are songs. The songs are sometimes personal and heartfelt, sometimes wry and playful, ripe with fantastic fictionalized and romanticized characters and storylines. The music is a big mélange, a tasty gumbo of musical and emotional flavors. What can we say about Taxi Chain? Taxi Chain is a musical adventure, an incredibly original musical combo founded in 1993 by Grier Coppins. Prior to Taxi Chain, Coppins was an original member of the renegade Canadian bagpipe-world-jazz-funk fusion band Rare Air in the 1980's, critically recognized as musical pioneers of their time. Coppins who grew up in a traditional Highland Bagpipe musical environment has always been fiercely original. "I like to think of Taxi Chain as the horse and buggy of modern music" - Grier Coppins A total of five players make up the band, with a whole lot more instruments. Besides delivering his trademark scruffy vocals, Coppins plays bagpipes, tenor guitar and tin whistle. Other instruments in the quintet include saxophones, flutes, blues harp, guitar, mandolin, backing vocals, bass and drums. Put this all together and you have one distinct musical groove. Taxi Chain's music has been described as "a delicious smorgasbord of R&B, soul and pop with a large side dish of bagpipes to spice up the unit". (ID Magazine) That's just one view, here's another: "Taxi Chain sounds like what would happen if you took Tom Waits on a two day bender and then got him a gig at a country bar, fronting a rock band, while playing the bagpipes. A wry look at life that turns the blues around like a three Martini lunch." (C'est What? Website) Local fixtures on the Toronto live music scene, Taxi Chain's music is instantly recognizable, but not as easily described. A lush bouquet of bluesy jigs and reels with strong overtones of old school funk, R&B, rock & roll, country, folk, and world music. Led by Grier Coppins on vocals, tenor guitar and bagpipes with serious heapings of soulful saxophone, dexterous and rootsy electric guitar, sing along choruses, big bottom bass and maximum swing drums, the live show is versatile, daring and fun.