Tempest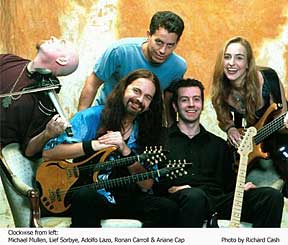 Based in Northern California, Tempest is recognized as a driving force in the modern folk-rock movement. Fusing traditional material with high-energy rock intensity, the band is renowned for its dynamic and electrifying concerts.
Tempest's members hail from five countries across three continents: lead vocalist, electric mandolinist and founder Lief Sorbye from Oslo, Norway; drummer Adolfo Lazo from Havana, Cuba; guitarist Ronan Carroll from Dublin, Ireland; bassist Ariane Cap from Innsbruck, Austria; and fiddler Michael Mullen from Fresno, California.
Signed to WEA-distributed Magna Carta Records, Tempest's releases are acclaimed worldwide. The group's recent studio CD Shapeshifter showcases diverse traditional material from across England, Scotland, Ireland, America and Norway, in addition to inventive, original material. Last year also saw the release of The 15th Anniversary Collection, a critically acclaimed three-disc boxed set of rare and previously unreleased studio, radio and live recordings.
Tempest is regularly featured at prestigious festivals including The Philadelphia Folk Festival, Denmark's Skagen Festival, Britain's Cropredy Festival and The Winnipeg Folk Festival. The band is also a mainstay at countless American Celtic festivals.