Terri Allard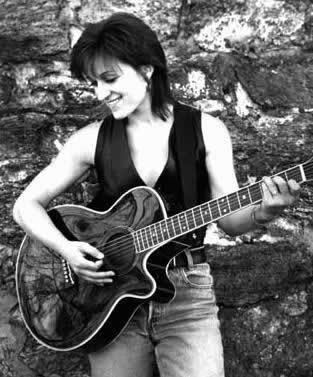 "Allard is a spitfire with an alter-ego that resonates with emotion," writes Crossroads Magazine. And she knows how to use it. "Loose Change and Spare Parts" is her third album, and it reveals an emerging confidence and a musical coming of age for this Virginia-based singer-songwriter and guitarist. John McCutcheon described it as the breakthrough album for a young woman who's been recording since only 1994: "She's finally unleashed that big singer we all suspected was lurking inside her small frame. Her band delivers tight, punchy accompaniment, the songs show real maturity in her writing, but it's her voice that gets center stage." NPR radio producer Chris Bannon adds, "If Terri Allard isn't a star by the time you read this, then you're reading a little too fast. Here is the authentic voice of country music--a mixture of wry and melancholy, independence, grit and hope."
Okay then, we'll slow down and start with what she sounds like. Kenny Dexter asked about that in his Tapestry interview with Allard last year. "When I play a coffeehouse, some people will say 'Oh! You're a country singer,'" says Allard. "And when I play a country bar, people will say 'Oh! You're a folk singer!' My music is smack dab in the middle of country and folk, really, and sometimes it's pop too. I like being a little folk and a little country because I think that helps me stand out. Often you find that people see a style that works and they lean toward it. I make it a point not to do that. It's not helping my career any, but I don't want to sound like anybody else," she says with a laugh.
When an audience is under her spell, assigning a category to her sound is no longer relevant. Reviewer and presenter Vic Heyman, one of the keepers of the contemporary folk fire, says "Terri Allard is one of the most exciting performers on the folk scene today. Some of her songs are haunting, playing in my head for hours." Common Threads radio host Larry Hoyt muses, "As the petite singer/songwriter demonstrated repeatedly...a human voice can be the most captivating of musical instruments--a voice of beauty that can soothe, entertain, mesmerize, and entice with sensuous sensitivity."