The Kennedys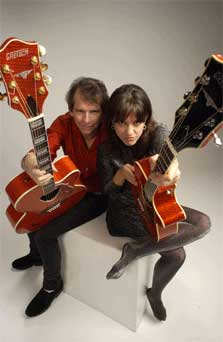 The story of Pete and Maura Kennedy's personal and professional relationship, now in its second decade, is somewhere between fate and a fairytale. How else can you explain a chance meeting in Austin between two East Coast-born musicians that immediately sparked a songwriting collaboration, a first date at Buddy Holly's grave, an enduring romance, and a creative partnership that radiates warmth, positive energy, and captivating music?
In 1992, Virginia native Pete Kennedy was playing a solo show at Austin's Continental Club on a brief sabbatical from his duties as country-folk singer-songwriter Nanci Griffith's lead guitarist when he met former Syracuse, NY, resident Maura Boudreau, enjoying a night off from performing with her own country-rock band, The Delta Rays. The duo "instantly connected on a soul level, or maybe even something deeper," according to Pete. They wrote their first song together the following day before Pete returned to the road, and rendezvoused ten days later at mutual hero Buddy Holly's grave in Lubbock, Tex., 500 miles equidistant between them. And that's how it started . . .
When Griffith needed a harmony singer to replace Iris Dement on short notice for a British tour in Spring '93, Maura was the obvious choice, and her touring life alongside Pete began. While boarding the plane to England, Nanci informed the duo that they would serve as the opening act for many of the shows on her tour, as well as performing in her backing band. With a need for material to fill their set, Pete and Maura wrote an inspired set of songs in Dublin that would become the basis for their first album, 1995's River of Fallen Stars, which earned an "Indie" award as "Best Adult Contemporary CD" by the National Association of Independent Record Distributors.
The body of work The Kennedys have created since their 1994 wedding is a reflection of their musical and philosophical influences and experiences separately and as a couple. A child of the '50s, Pete was compelled to pick up his older sister's guitar after seeing The Beatles perform on "The Ed Sullivan Show" and was soon playing "Louie Louie" and "Satisfaction" in a garage band while also absorbing the new sounds of The Byrds and folk-rock. After a year of studies at Boston College and with disco music just around the corner, Pete "started to lose interest in pop and got into taking the long view of the guitar." He returned to Virginia and immersed himself in classical and jazz guitar, studying with master players Joe Pass and Johnny Smith in the late '70s and early '80s. The rise of the "alt.country" scene in the mid-'80s reignited Pete's interest in contemporary music and he became a first-call session player in the Washington, DC, area. When fellow picker John Jennings took a sabbatical from his role as Mary Chapin Carpenter's lead guitarist, Pete stepped into his shoes. On a final show with Carpenter in 1991 (on "Austin City Limits") before she took a hiatus for songwriting, Pete sat in with fellow guest Nanci Griffith, was invited to join her band, and accepted.
Meanwhile, Maura Boudreau was learning there was more to music than pop when she started working in a used record store in Syracuse in the mid-'80s. There she discovered the British Invasion bands of two decades earlier, England's groundbreaking folk-rock group Fairport Convention, and, most significantly, country-rock singer Emmylou Harris, whose recordings led Maura to the traditional music of Patsy Cline and the Louvin Brothers. She subsequently switched from playing Fairport-influenced material to forming the country-oriented Delta Rays and also started writing her own songs. A trip to Austin's SXSW music showcase in the late '80s convinced Maura to relocate her band there, although all but one of the original Delta Rays opted out of the move.
After Pete and Maura's fateful 1992 meeting (the subject of their last CD's title song, "Half a Million Miles") and several years of touring and recording with Nanci Griffith, the duo seceded amicably from Griffith's Blue Moon Orchestra and became The Kennedys, recording CDs that encompass their favorite musical styles while incorporating the naturalistic, transcendental and mythological teachings of Joseph Campbell, Eckhart Tolle, Walt Whitman, and various Eastern-oriented philosophers into their songs and lives. Their goal is to live in the moment, appreciating every second of sensation, which imbues their music with a constant sense of wonder and freshness.
As confirmed road warriors and performance addicts, The Kennedys have logged well over 1,000 gigs and half a million miles of touring, bringing their songs and spirit to venues ranging from the prestigious Newport, Falcon Ridge and Kate Wolf music festivals to the most intimate house concerts. A fearsome accident on the New Jersey Turnpike last year totaled The Kennedys' third touring van and eventually influenced them to shift their home base from New York's East Village to more laid-back headquarters in Northampton, Mass. They continue to tour constantly, to record (they have three new projects already on tape), to host their "Dharma Café" show on SIRIUS Satellite radio, and to spread their exhilarating, inclusive and meaningful music across a polarized country that needs to hear it now more than ever.